Today has been a really special day for us – we rode in the Great Manchester Cycle family ride, which was our first ever mass participation cycle event.
The Great Manchester Cycle is on closed roads around Manchester, and was a wonderful opportunity for us to show the boys that cycling can be more than just a means to get to school or out in the country at the weekend. We certainly weren't disappointed – there were thousands of people taking part of all ages and abilities. When you're used to being the lone cyclist arriving at the school gate, it was a fantastic feeling to be riding along with so many other people.
The rules of the Great Manchester Cycle family ride – no cycling for the under 8's
I've never seen so many tagalongs and trailgators in my life – which was probably due to the ruling that the under 8's were not allowed to ride by themselves. This is partly for insurance purposes, and also for safety reasons. Prior to the ride I'd been slightly annoyed that 7 year old N couldn't use his own bike, but as you'll see later, I've totally changed my mind.
The run up to the event for us was marred by my ankle injury. If the ride had been last week I wouldn't have been able to take part, but thankfully a few physio sessions, lots of targeted exercises, going to sleep with ice packs on the ankle plus an unhealthy amount of ibuprofen meant I was OK to cycle.
Chris and I took a child each, and I got to ride with 4 year old T on the tagalong. N was able to ride the Frog 55 which we have just been sent to review, which was attached to Chris's bike using the FollowMe Tandem.
The ride started from Manchester City's Etihad Stadium, and we arrived at the nearby car park in plenty of time for the 2pm start. By the time we'd assembled the bikes and eaten lunch, the boys were almost beside themselves with excitement.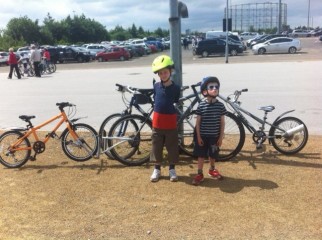 Once we got in the queue for the starting line they became more subdued – probably overawed by the scale of the event.
The point of no return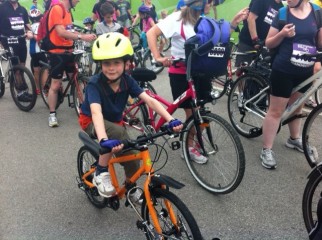 Whilst we were waiting, several guys came along on stilts to entertain the crowd. One of them had the amusing trick of walking with one leg on either side of the smaller children on their bikes. You can probably see where this is going……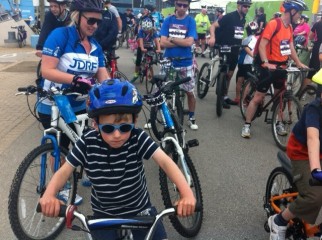 Sure enough, he spied N on his bright orange Frog bike and started to straddle either side of him. The look on his face was priceless when he realised the child's bike was attached to an adult bike, on which was sitting 6′ tall Chris.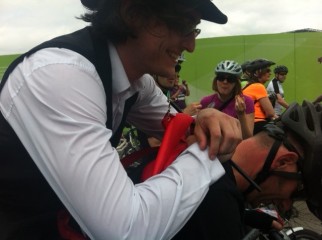 Egged on by Chris and the crowd, there was no way back for the poor guy. With Chris crouching very low over the handlebars, he somehow managed to complete his journey.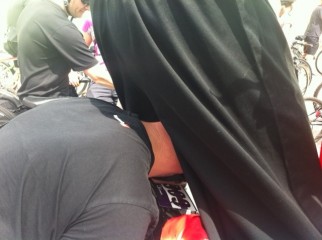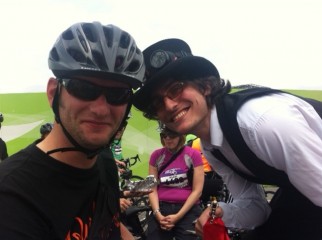 It certainly kept the kids amused while waiting for the countdown to signal the start of the ride.
And we're off!
Once the Great Manchester Cycle family ride started, there was the usual jockeying for position. Faster people from the back of the line up tried to get past slower people who just happened to have got to the start earlier. I've experienced this a lot in running events, but it's much more hair raising when you're on a bike.
For a brief moment, as we reached the top of the first hill, Manchester City Centre was laid out before us. It was a wonderful moment, with cyclists stretching out in front of us as far as the eye can see. This, I thought to myself, is what it must be like in Amsterdam.
The perils of cycling with so many people
It was one of the few opportunities I had to take in my surroundings, as I became acutely aware of the need to be as vigilant on this ride as if I was riding in rush hour traffic. There were cyclists of all ages weaving back and forth across the road, combined with very fast riders (who I assume had completed the 52 and 26 mile rides and were heading home) darting in and out as well.
I, unfortunately, saw 5 crashes and was a split second from one myself when a young lad of about ten made a right angle turn straight in front of me. From that moment, I didn't dare take my eyes off the road, and it was as mentally challenging as riding in the rush hour to school. I guess I shouldn't have been surprised by this and will know what to expect next time.
I could now see the reasoning for the under 8's not being allowed to cycle themselves, and I was really glad that both boys first experience of a sportive was being towed. I know at just turned 7, N certainly doesn't have the concentration levels to be able to cycle 13 miles under such busy conditions. It will be interesting to see if he does in 12 months time.
It wasn't just the children who were struggling to ride with so many other people, and it made me realise that if (or should I say when) the government finally get their act together and invest seriously in cycling, it needs to be in both safe routes and in training, to ensure the increased numbers of cyclists know how to interact together safely, as well as with the traffic.
The best bits of the Great Manchester Cycle family ride
One of the highlights of the Great Manchester Cycle family ride for me was looking down on Oxford Road – my old student haunt – as we passed over it. Just being with so many other cyclists was absolutely fantastic, as well as being able to ride straight through red lights, and of course, cycling down the motorway – what a liberating feeling!
The boys had a wonderful time too – they were able to take in all the sites (including two premier league football grounds), and we counted down each of the miles as we passed the signs. The 13 mile route passed quickly, and all too soon we were in the home straight.
4 year old T is the competitive one in our family, and he was pedalling as hard as his little legs would allow to ensure he was on the winning team. To all intents and purposes, it looked like a draw, which satisfied him. I won't let on that the official results show that Chris and N finished 2 seconds quicker. T and I crossed the start line first, and the good people who organise the Great Manchester Cycle family ride use timing chips for total accuracy.
We completed the 13 mile course in 1 hour 9 minutes, although it didn't seem that long as there was so much going on, and it was so enjoyable. I'm glad of the years of pulling the tagalong up the hill to school, which meant I could maintain a steady pace throughout. Without that, I'd have been much slower on the bits where the motorway elevates up over the roads below – it's actually quite steep! It was a massive relief my ankle held up fine too – and was OK to do the ride to school this morning as well – especially as Chris (and the car) have gone to build a balance bike in Somerset.
We've done the Great Manchester Cycle family ride – and got the medal to prove it!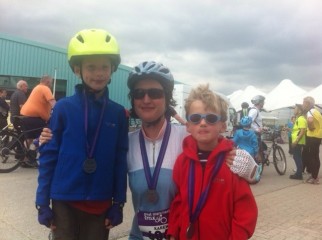 At the end of the ride we collected our finishers packs. As it's free for the under 8's to enter the Great Manchester Cycle family ride, they don't qualify for a bag or t-shirt. Thankfully, they do however get a medal and a bottle of water.
The boys were absolutely overjoyed to finish the ride, and of course to have their very own medals. T has already taken his medal to preschool this morning, and N's will go to show and tell on Wednesday.
It is wonderful to hear them talking with such pride about the ride (or race as they call it!) and to realise what an inspiration events like this are to young cyclists. Their final verdict was that the Great Manchester Cycle family ride was totally brilliant, and that they want to do it again next year.
Can't ask more than that, can you?
For more information about next year's Great Manchester Cycle family ride, and how to sign up visit www.greatcycle.org