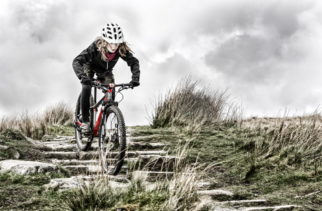 Islabikes have blown the market wide open with their brand new 'Pro Series' range.
Since 2006, Islabikes have championed the needs of kids by creating superb quality lightweight bicycles that are loved by kids and parents alike.
Well, they've gone further than ever before turning the heat up to max and then some, with their new Pro Series aimed at cycling enthusiasts and young racers.
The Pro Series will sit above the current range with Islabikes stating that they are perfect for young riders looking to push themselves to the limits of their potential.
Pro Series Design
As with the existing range, Pro Series bikes benefit from Islabikes' holistic design process with use of custom handlebars, chainsets, pedals, grips, saddles and seatposts, all designed in-house to provide a true child-specific fit. The components are then matched to the frame to create a complete package optimised for young riders.
The Pro Series range
The Islabikes Pro Series range will feature four different model families covering Starter Bikes, Cyclocross, Cross Country Mountain Biking and Mixed Terrain Riding.
Isla Rowntree says:
"Every year we attend numerous races and cycling festivals with our bikes. At certain events, Tweedlove and cyclocross races in particular, we have been in awe of the speed and skill levels of some of the young riders. I wanted to deliver a range of even lighter, higher specification, performance focused Islabikes with all the benefits of our holistic design approach for those whose lives revolve around youth cycling competition. We have designed full carbon forks that perfectly match the geometry of each bicycle size, low Q factor cranks, our own superlight and grippy cyclocross tyres and sprinkled each bike with titanium and aluminium finishing bits to shave off the last bit of weight. These are serious bikes for children who are serious about their cycling. I hope we see some of their names crop up as Olympians in the future."
---
Luath Pro Series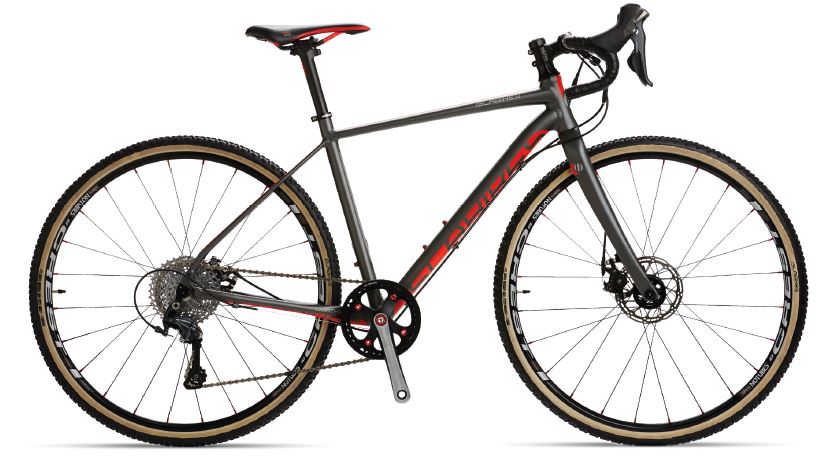 Ideal bikes for the cyclocross enthusiast and budding racer, the Luath Pro Series is optimised in both fit and performance.
Geometry of the Luath Pro Series mimics that of the Luath models in the current range for true cyclocross style geometry. The Luath Pro Series inspires confidence thanks to a long wheel base and relatively slack head angle which helps keep the bike stable. The bike, with its custom designed Islabikes full carbon fork, has also been designed to eliminate toe overlap with the front wheel – especially important when at lower speeds. Young riders carry their weight differently to adults with their centre of gravity based closer to their hips – adults have greater weight in the torso. To cater for this, the Luath has a relatively steep seat tube angle which helps to keep weight central. This steeper seat tube angle further assists with reach for smaller arms. The Luath Pro Series features a super low bottom bracket, something which is made possible thanks to the new super low Q-Factor Islabikes cranks. As a result, the bikes offer very low stand over heights. Finally, the bikes have been designed to provide ample tyre clearance for mud shedding capability.
Control points are very important – especially for smaller riders. Islabikes have produced their own child specific drop handlebars that measure just 22.2mm in diameter. This benefits smaller hands and allows for a tighter bend in the drops. All small details that add up to deliver control and inspire confidence.
Tyres are an extremely important consideration in cyclocross and with limited choice available for children, Islabikes decided to invest in their own dedicated cyclocross tyre. When paired with a Stan's rim, the Islabikes Cyclocross tyres meet all UCI regulations for racing. Lightweight, with a folding bead they are tubeless compatible – all bikes ship with a tubeless valve. The tyres offer excellent grip in the mud and yet roll well on hard pack. 185tpi kevlar construction ensures a supple ride and cream sidewalls complete a classy finish.
Stopping power is taken care of by Avid BB7 mechanical disc brakes for all weather reliability. Mechanical brakes have been selected as the levers are better suited for smaller riders and offer greater reach adjustment than their hydraulic counterparts.
Price for the Luath Pro Series is £1599.99.
Full Specification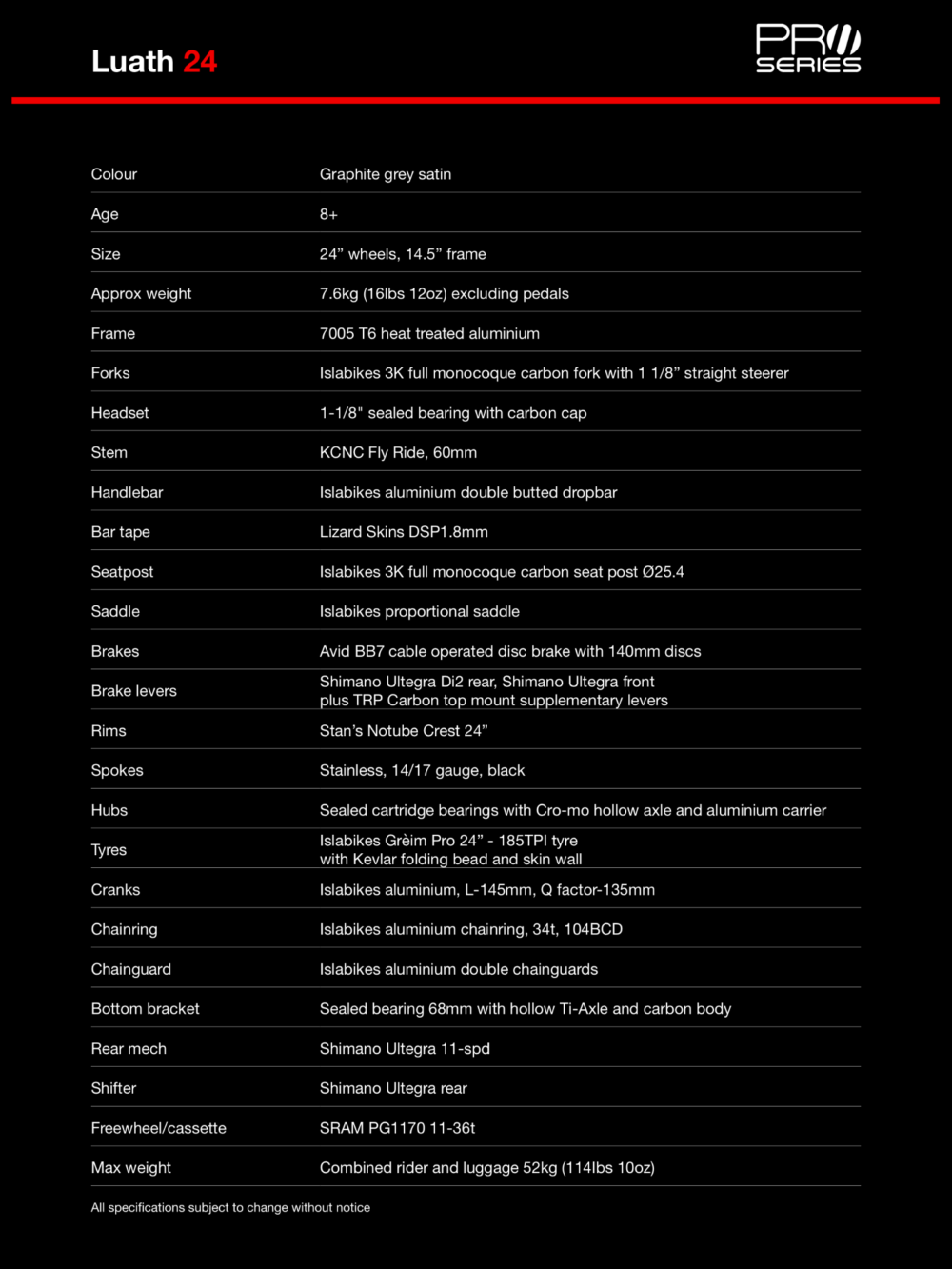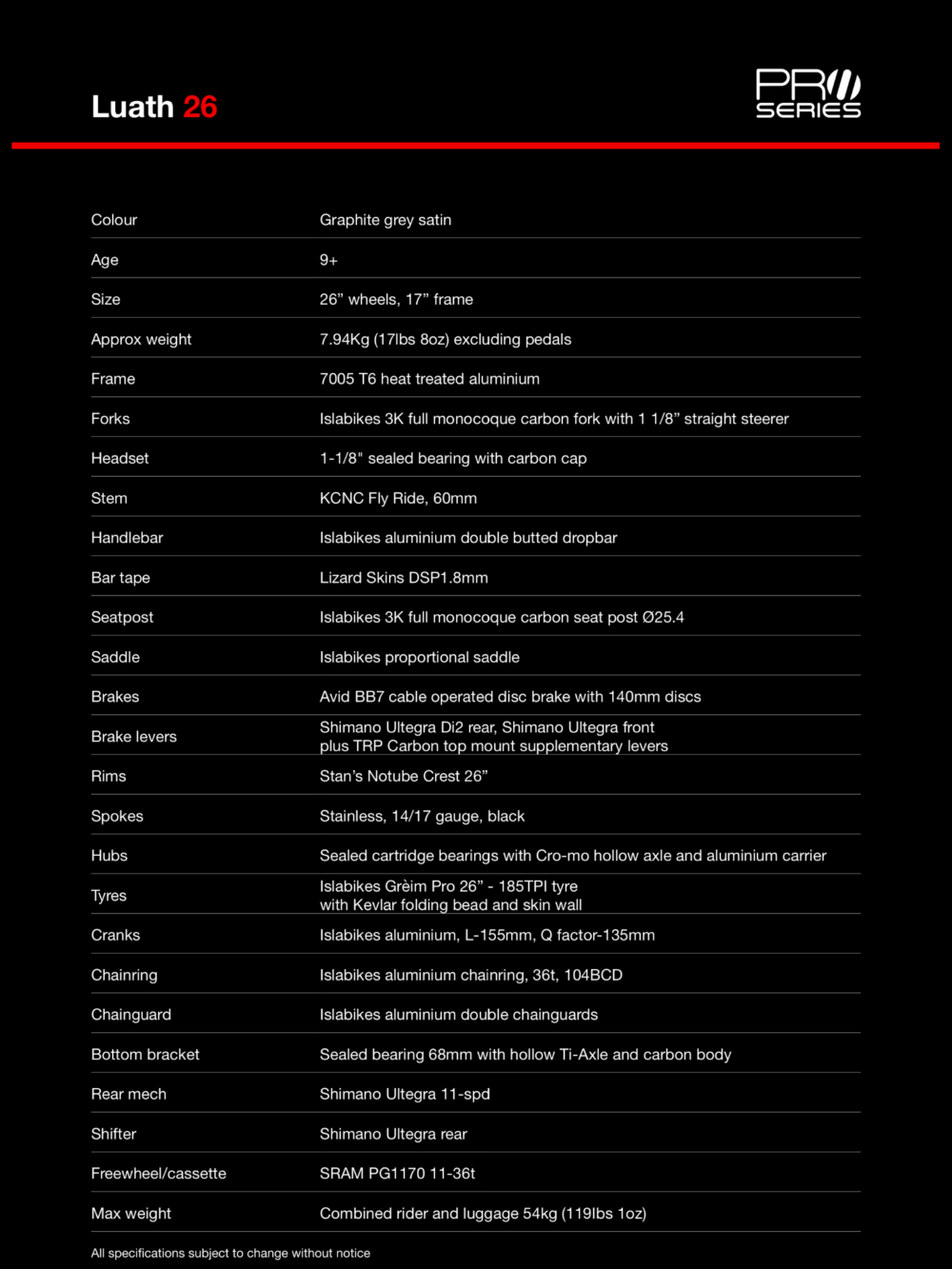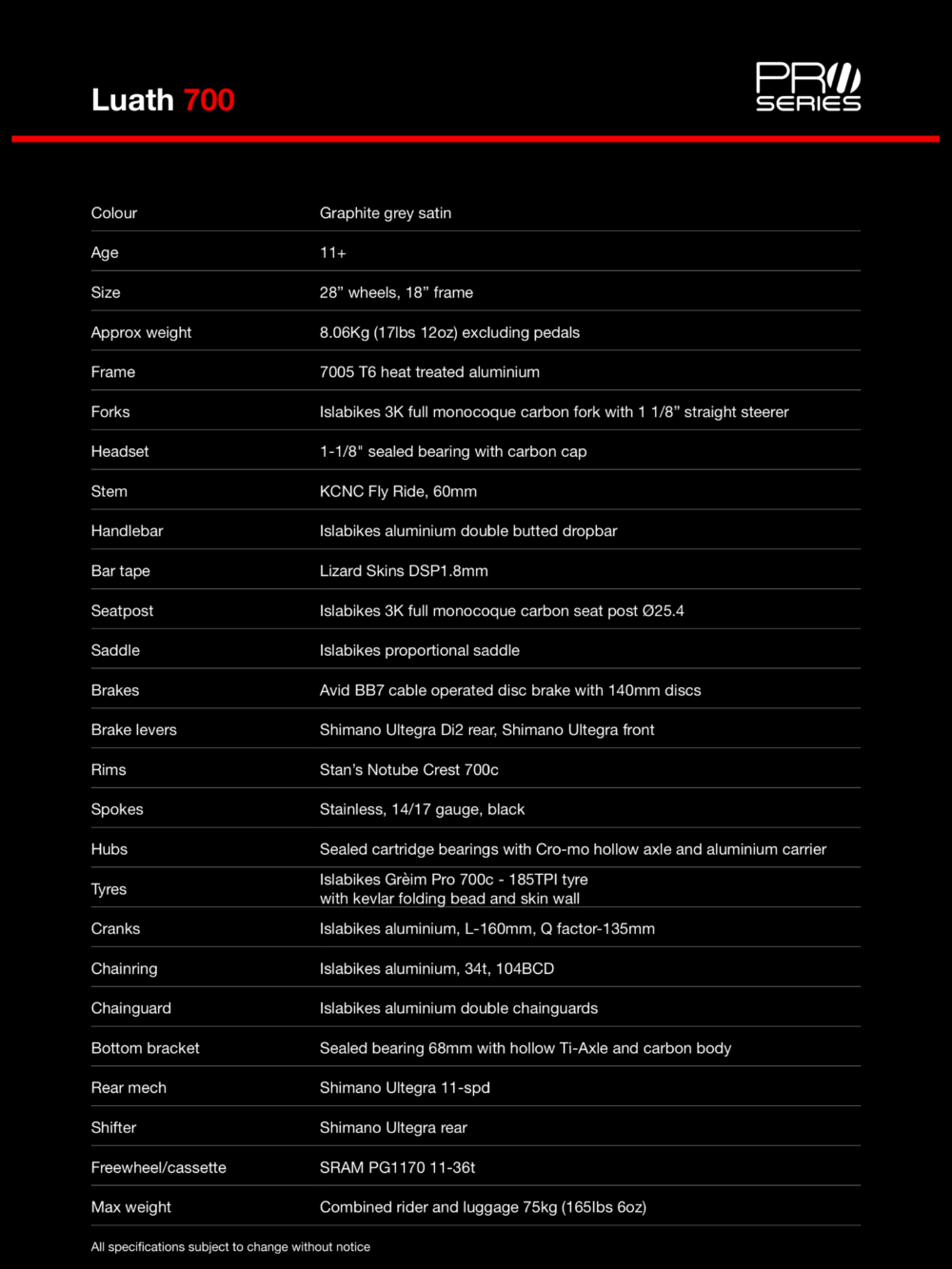 Creig Pro Series

Available in both 24 and 26 inch wheel sizes, the Creig Pro Series is a lightweight XC mountain bike that is ready to rip.
Both bikes have been specced with the Rockshox 30 Gold TK forks. These forks have been specifically selected due to their narrow 30mm stanchions which reduces overall friction meaning they can be run at much lower pressures. Light riders need to be able to run these low pressures to allow them to get proper use and travel from the fork.
Islabikes have worked closely with Stan's Rims. The Creig Pro Series comes with Stan's NoTube Rims in all wheel sizes meaning these bikes can be run tubeless with the Schwalbe Rocket Ron tyres. Not only do tubeless setups allow for lower pressures and more control, they are also lighter overall and have added puncture resistance benefits.
Geometry on the Creig Pro Series is cross country orientated. Islabikes have designed their own low Q-Factor cranks to bring the child's legs closer together, instantly improving the pedalling ergonomics. That's not the only benefit. Because the distance between the pedals is reduced it means Islabikes have been able to further lower the bottom bracket closer to the ground and still maintain a safe lean angle. This helps reduce overall standover height further meaning children can get their feet down when they want to stop, helping them to feel safer in the saddle.
Price for the Creig Pro Series is £1499.99.
Full Specification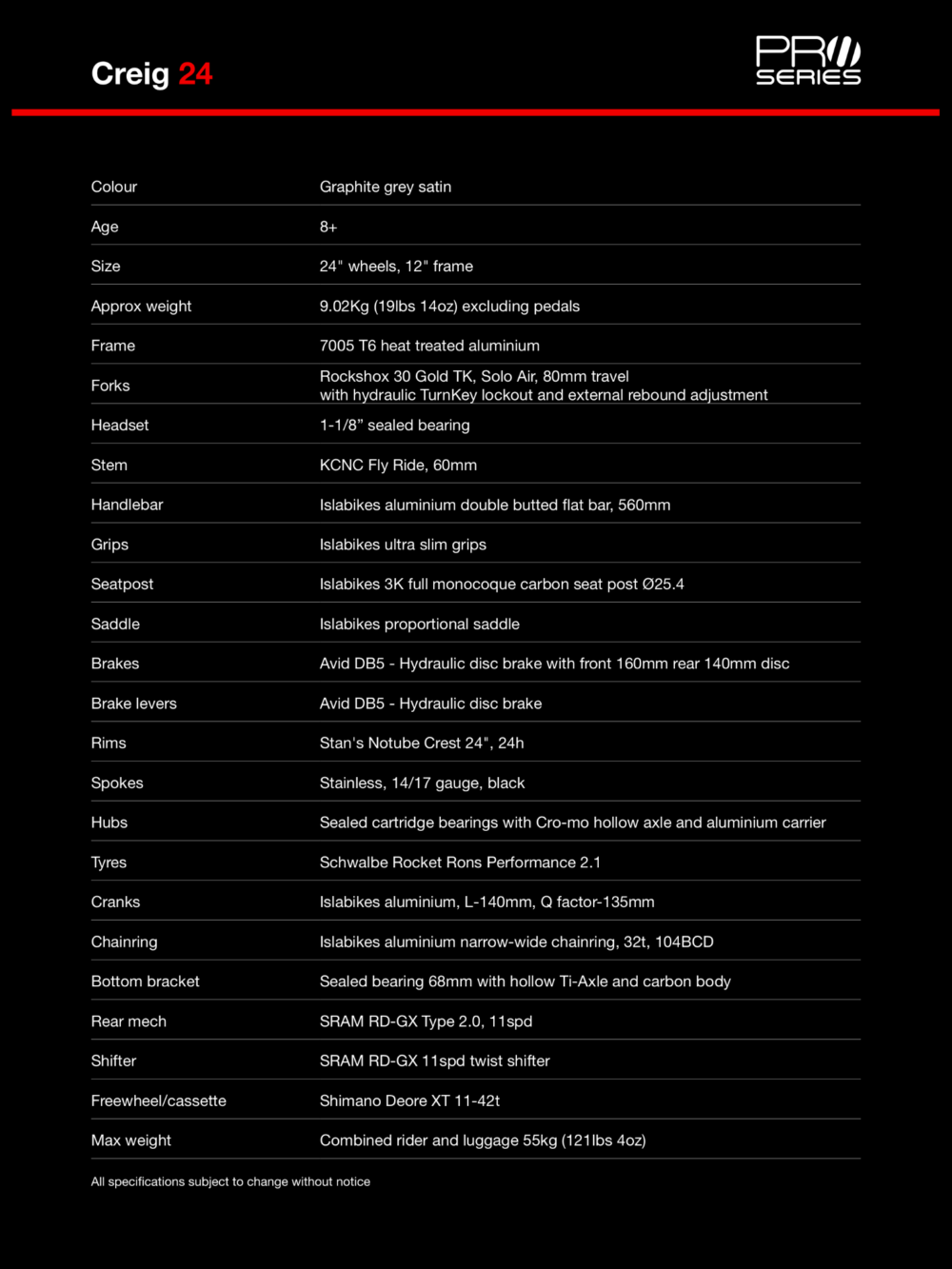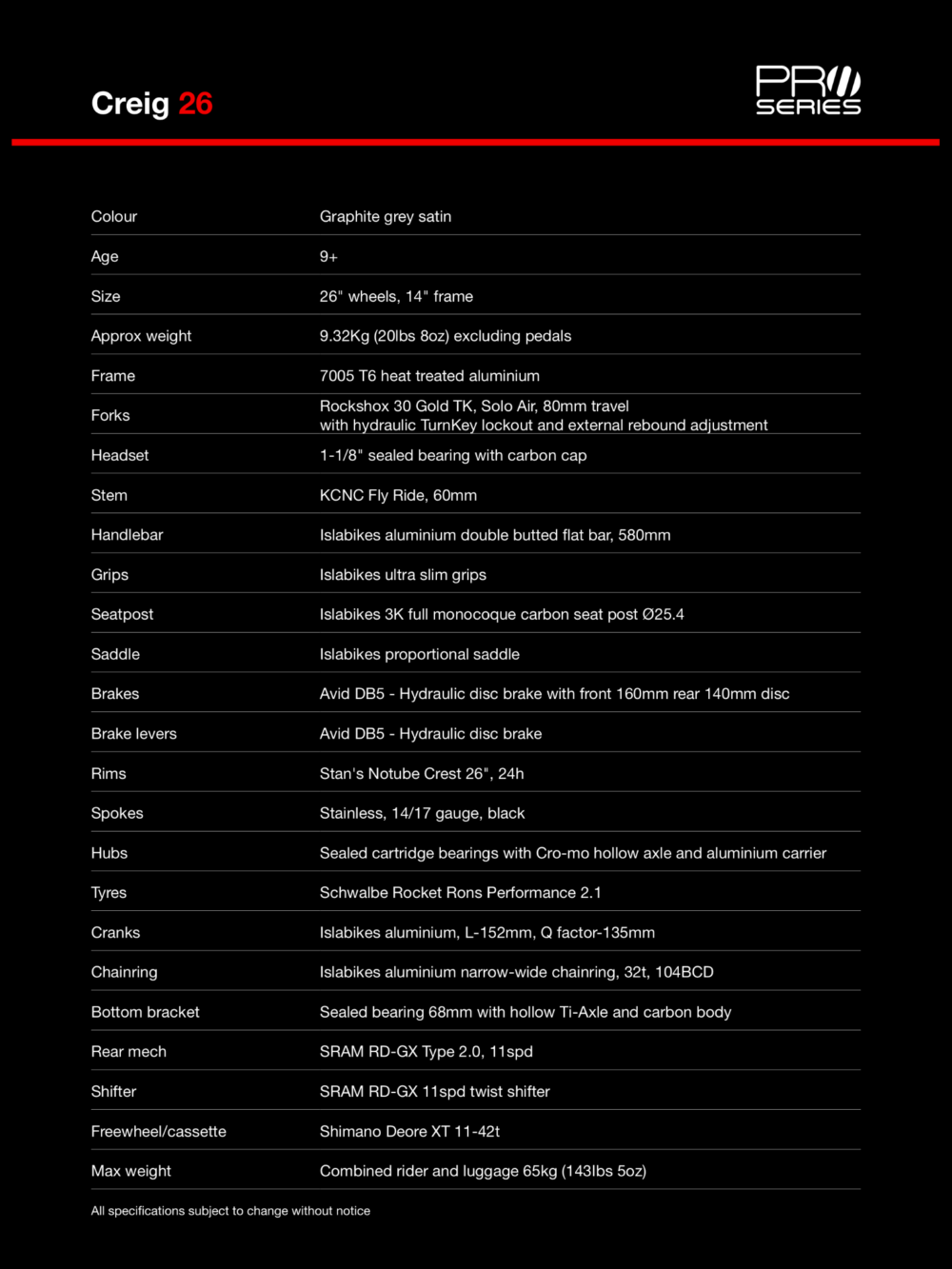 Beinn 20 Pro Series

The Beinn Pro Series is a proper mountain bike for smaller riders which has been inspired by observing first hand the skills of young riders.
Being aimed at smaller riders, weight is an important factor for all Islabikes. The Pro Series takes this a step further. The Beinn 20 Pro Series features a custom carbon fibre fork which Islabikes have designed from the ground up. Low spoke counts and aluminum nipples have been used in the wheels to help keep rotating weight to a minimum.
One of the biggest difficulties in designing the Pro Series Beinn 20 was finding a cassette with a wide enough ratio for the bikes intended use. Currently, the only available wide ratio cassettes are 10spd. However, due to the short chainstay length a wider cassette results in an increased chain angle causing chain drops and premature chain wear. Rather than increase the chain stay which would affect the ride characteristics. To overcome this problem Islabikes have specced a 10 speed SRAM cassette and converted it to 9 speed by removing the 15 and 17 tooth sprockets and replacing with a 16 tooth. The result is a wide range cassette to help manage all terrains with even spaced gearing and optimised chainline.
A real enthusiasts mountain bike wouldn't be complete without disc brakes. The Beinn 20 Pro Series is no exception and comes specced with Avid DB5 hydraulic disc brakes which deliver reliable stopping power with a great deal of modulation and control. Islabikes own tyres and Stan's rims mean this bike, like the Creig and Luath Pro Series, can also be run tubeless.
Price for the Beinn 20 Pro Series is £999.99.
Full Specification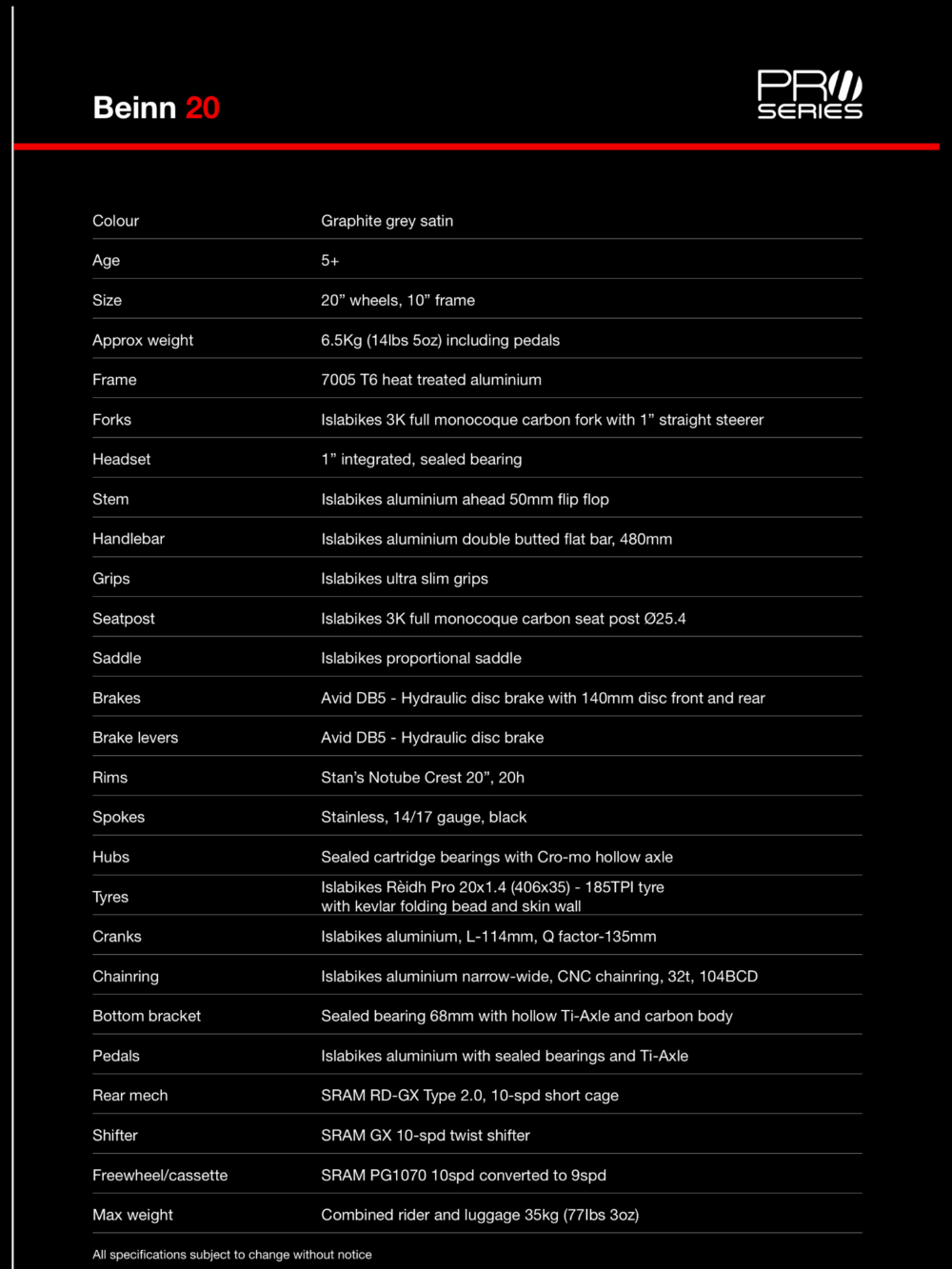 Cnoc Pro Series
The Cnoc Pro Series perfectly illustrates Islabikes' approach to holistic design. Almost every element of this bike has been custom designed and manufactured by Islabikes, each working together in harmony to deliver the complete package.
A smooth welded 7005 aluminium frame keeps weight low, but perhaps the most striking lightweight feature of this bike is its full carbon fork. Custom designed and made by Islabikes, with full carbon fork legs, crown and steerer, this fork provides huge weight savings and delivers excellent steering agility.
Further weight savings come from Islabikes' custom tyres which feature a very supple 185TPI construction. A custom tread pattern has been optimised to provide fast, but grippy, performance for lighter riders. The result is a bike that accelerates more readily, effortlessly turning pedalling effort into forward motion.
Titanium and carbon are exotic materials normally reserved for high quality adult bikes. The Cnoc Pro Series however, benefits from a hollow titanium bottom bracket with carbon shell. Weight is kept to a minimum and sealed cartridge bearings ensure smooth pedalling efficiency. As with all bikes in the Pro Series range, the Cnoc makes use of Islabikes' full carbon 25.4mm seatpost.
Islabikes own pedals also feature titanium axles and pins keeping the weight to a minimum. Completing this bespoke package are Islabikes own super narrow handlebars, grips, stem and saddle ensuring all contact points have been made specific to the needs of children.
At 4.8kg (inc pedals), the Cnoc Pro Series saves a huge 1.3kg over the already lightweight current Cnoc.
Price for the Cnoc Pro Series is £799.99.
Full Specification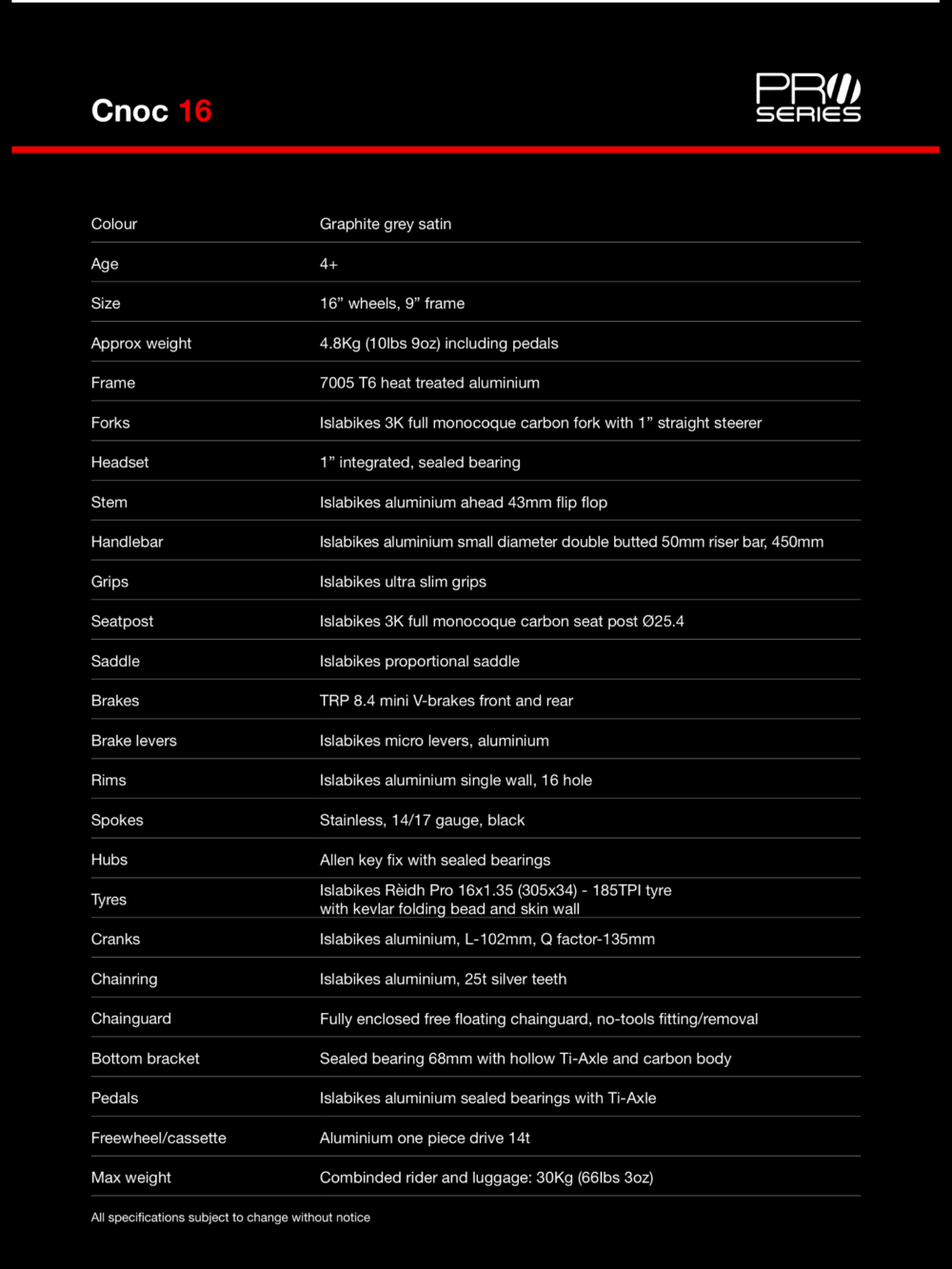 The Islabikes Pro Series is available to pre-order now