When I was writing our recent article "The best balance bikes as recommended by parents", dad of two Stuart got in touch to let me know how much he rated the Specialized Hotwalk balance bike that both of his daughters had used. Here's what he told me:
Specialized Hotwalk Balance Bike – a parents review
Affiliate disclosure: Some of the links on this page use affiliate marketing. This provides Cycle Sprog with a small but very useful commission from each purchase made. Thanks for helping us with the costs of keeping the website going – it's really appreciated. "Both of my daughters learnt to ride on this Specialized Hotwalk balance bike.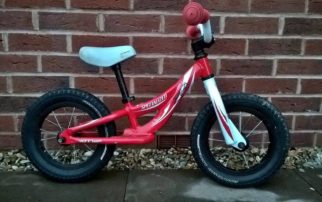 I paid £100 for it 5 years ago and it has been worth every penny. The Hotwalk is extremely light and perfectly weighted to promote balance straight from the first ride. It has little foot rests, so once the child has gained a little confidence, they will naturally lift their feet and balance / ride. This was my daughter enjoying her first ride on the Hotwalk, aged two and a half.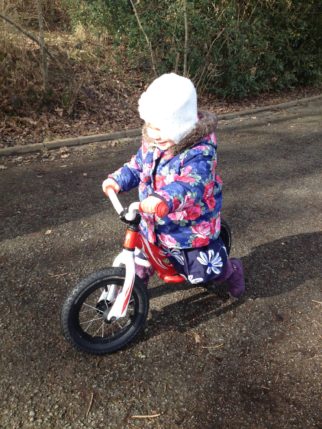 I have to say, I think that the Specialized Hotwalk is a much better balance bicycle than some other models. And that's the difference isn't it? We found that the Hotwalk promotes 'balance', whereas some other balance bikes we've seen in action promote pedal-free 'scooting'.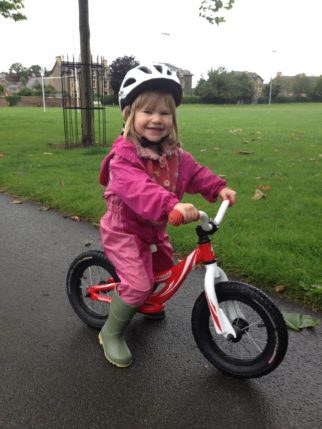 As a result, I found that when my girls were ready they transferred straight to pedalling – no need for stabilisers. Here's a short video of my youngest riding her pedal bike for the first time – no help needed!
The Specialized Hotwalk has certainly prepared my daughters well for moving up to pedals. My eldest is now 8 years old and racing (very successfully) in the junior cyclocross and mountain bike leagues. In-between my two daughters the Hotwalk was used by two other children, both of whom went on to ride bicycles without stabilisers straight away. We would now like to pass it on to someone else but the problem is that my wife had it autographed by Bradley Wiggins during the Tour of Britain, so it'll have to be hung up on the wall somewhere instead!"
Where to buy the Specialized Hotwalk Balance Bike
Specialized bring out a new version of the Hotwalk most years, usually with a new colour scheme. There's always plenty available second-hand too.
A massive thanks to Stuart for sharing his daughter's experiences of the Specialized Hotwalk balance bike. The model his daughters rode is several years old (although not much has changed!)
You may find these other articles useful:
This article was first published in November 2016 and updated in March 2017 to update the links
If you've enjoyed reading this article, please do sign up for our newsletter - we'll keep up updated when we have new articles which may be of interest. Thanks!