I've liked the look of the Cube range of bike helmets for some time, so I was keen to get my hands on one to see how it looked in the flesh. We chose a size small (52-55) for our reviewer, having checked the fit to ensure it was nice and snug on his head. The Cube HPC Teamline has a RRP of £79.99, but there are good deals to be had at the moment if you look around.
Out of the box
Fit and finish
The finish of the Cube HPC Teamline helmet is very good, with no rough edges and a clean finish. Construction uses in-mold carbon reinforced EPS (Expanded Polystyrene), which results in a helmet with the inner and outer moulded together resulting in a lightweight unit that is very durable. Checking around the helmet, there is very little exposed EPS, which is a good thing as it means the helmet has been designed to minimise damage from knocks and scrapes.
Padding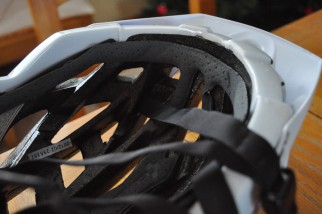 On first viewing, the inner fit pads appear to be very thin however prodding around reveals that they are nicely cushioned in the right places. There is a single pad for the top of the head and I would have expected perhaps an additional one, but N confirms that it's perfectly comfortable without.
Another positive is that the inner fit pads are removable and so can be taken away and washed free of all grime and grit.
Ventilation
There are 27 vents to channel air around and over the head, so there's plenty of cooling to be had when needed.
Appearance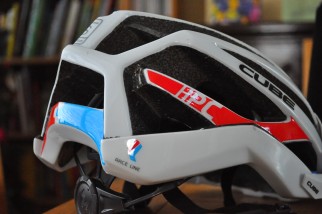 The main body of the Cube HPC Teamline helmet comes in a bright alpine white colour, with contrasting red and blue cube detailing on the flanks. This makes for a very visible and attractive looking helmet, with  a design that offers good all-round protection whilst not being bulbous in shape. The helmet comes shipped with a visor, and this  provides a good degree of protection from sunlight, dirt and branches while mountain biking, while adding to the visual appeal and enhancing the overall shape.
However, the visor can also be removed, so ideal when riding a road bike if you find the visor obscures your vision in the crouched position. To be fair, it's still a pleasant looking helmet with the visor removed, but for me looks better with it fitted. Function over style though every time!
Adjustment
The fit system uses a rotary dial at the back that allows for one-handed adjustment, and this has been performed by our tester with his gloves on. Adjusting the helmet gives a reassuring ratchet sound, gives enough fine tuning to get the fit you want, and once done locks in place with no slippage evident.
The straps can be adjusted with side dividers to get them fitting nicely around the ears, and under the chin the straps are joined together with…..wait for it………. a magnetic buckle!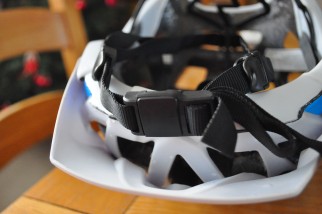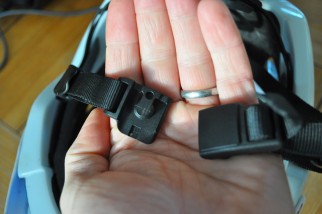 I've never encountered such a mechanism before on a helmet, and I must say it works really well. Our tester is not always the most dexterous, but he can lock and unlock this with absolutely no problems at all. Locking is very quick, and once done the chin straps are secure. Genius!
Available sizes
The Cube HPC Teamline Cycle Helmet is available in three sizes, namely Small (52-55 cm), Medium (55-58 cm), and Large (58-61 cm).
Who is it aimed at?
The Teamline is marketed as an mtb helmet as it comes fitted with a visor. However, as stated previously it's suitable for road too, especially as the visor is removable.
Where can I purchase?
If, like many, you want to try a helmet for size and ensure it's comfortable before parting with your money, then you can find the nearest Cube stockist via the Dealer Search Map on the UK site. Alternatively, you can check out some of the online retailers including Hargroves Cycles and Chain Reaction Cycles.
Any downsides?
I like the colour combination, but if you really like the style of the HPC helmet, your colour choice is limited to white or black. That's it.
Conclusion
A well constructed helmet that is fairly lightweight, and is easily adjustable by means of the excellent magnetic buckle. Visually it is an attractive helmet, and makes use of carbon reinforcement that while structural, adds to the visual appeal. Definitely worth a look in this price range, but as always make sure it fits comfortably on YOUR head!
The Cube HPC Teamline Cycle Helmet has been provided to Cycle Sprog for review.