Altura Cresta children's winter glove (RRP £15.99)
With winter fast approaching it's time to invest in some decent gear to take the chill off those extremities. With this in mind, here is our review of the Altura Cresta children's winter gloves so you can see how they perform in slightly cold (but very wet!) weather conditions. Firstly, here is someone trying them on for size!

The manufacturer
Altura are a big name in the cycle industry, creating technical clothing and luggage that has been designed to do a job in UK weather conditions and do it well. With their headquarters in North Yorkshire this team of enthusiastic cyclists design their products in house, and use a team of cyclists of all shapes and sizes based around the UK, to ensure the products are fit for purpose.
The Altura Cresta kids winter cycling gloves
Finding cycling gloves small enough to fit the hands of under 7's has been a real challenge for us. Then we came across the Altura Cresta gloves. The first pair were bought for 6 year old N to test out and I was intrigued to see just how they would fare when used on a daily basis and in all weathers.
Construction of the Altura Cresta kids gloves
Being a technical glove, all manner of materials come into play, with the outer shell of the Altura Cresta being 70% polyester and 30% polyurethane, which provides a tough cotton feel to the touch. The liner is made from 100% polyester and woven such that it feels like fleece on the hands. Now you may be thinking that this might get a bit sweaty, but the Altura Cresta is breathable so clamminess should be minimised. At the wrist there is a knitted cuff, long enough to tuck under a jacket, plus an elasticated section across the top of the hand to stop cold air from making its way up your sleeve.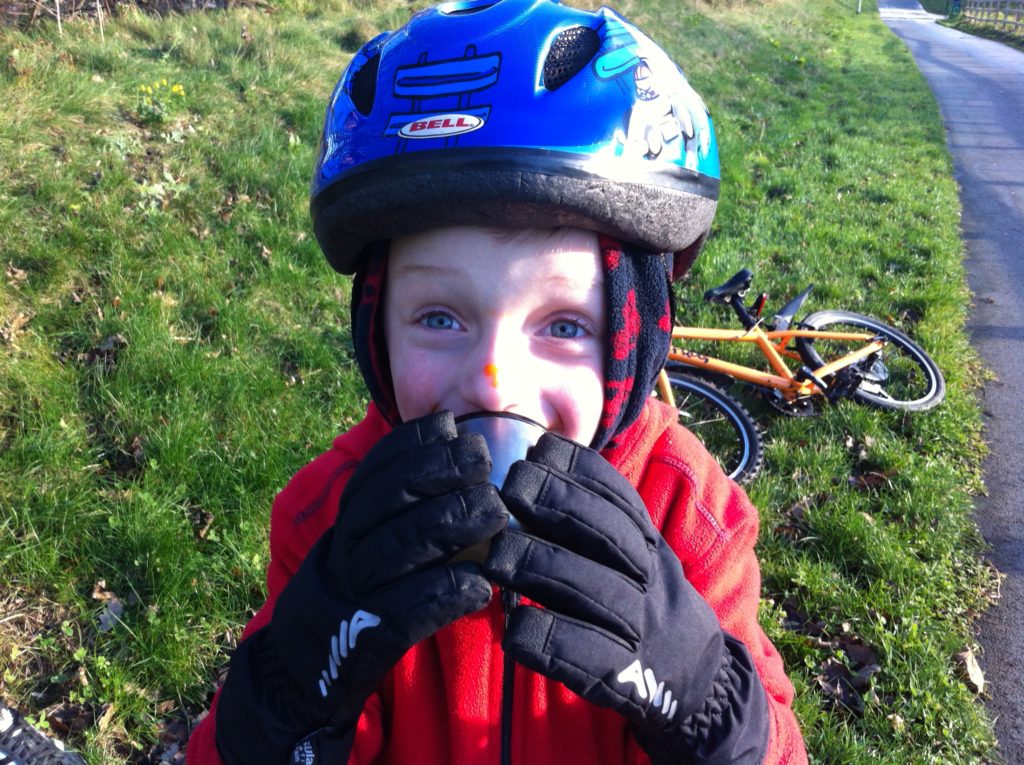 Ruggedness of the Altura Cresta children's gloves
The outer has a reassuringly tough cotton feel to it so shouldn't snag easily. Turn the glove over and you will find the palms and fingers are covered in Griptex, which has a tough rubbery feel and keeps little hands firmly planted on the handlebars while giving plenty of grip when trying to change gear or grabbing a handful of brake lever.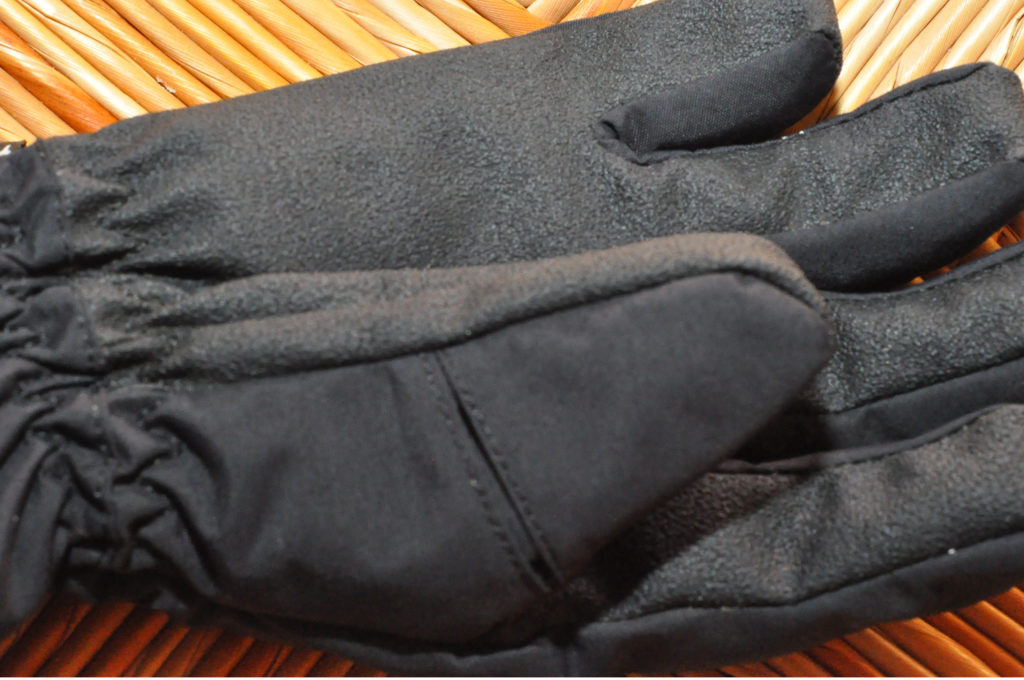 This tough coating has also protected the gloves from being dragged along fences, roads and the picking up of countless rough edged stones, so it seems to be good stuff and provides some resistance to the rigours that children place upon gloves.
I have a dislike of stitching that frays or comes undone so it is refreshing to see that on the whole, the stitching on both sides of the glove is concealed, so splits due to failure of stitching shouldn't be a problem
Weather resistance of the Altura Cresta gloves
Altura claim that the Cresta is fully waterproof – important for a kids winter cycling glove. During the test, the gloves have been used daily and so have encountered a variety of weather, including some torrential downpours. They have coped admirably, and even though the knitted cuff has got a bit soggy, the main part of the glove has remained dry inside and so hands have stayed nice and toasty.
Thoughtful design
One element of the glove that I like is the addition of a reflective Altura logo on the outer section which runs along the length of the little finger. This piece of trim is highly effective in the dark, as it gets picked out by car headlights and brings the rider to the attention of the driver.
Snippets from the Sprogs
"They are quite hard to get on. You have to wear them through a bit, then it gets easier to go like that (making a braking action). They're really warm and like fur inside" N aged 6
"It's hard to get your fingers in each of the holes. You just take them off and ask your Mummy or Daddy to help you put them on" T aged 3
N made a good point regarding 'breaking in' the gloves as they are quite thick and so initially they can be a little stiff. However, with use they soften up and allow greater dexterity and movement of the hands.
An update after several years of use:
We bought the Altura Cresta gloves for our eldest in 2012. They served him and his brother well. In autumn 2016 we passed them onto another member of our local Go Ride club to use.
Verdict of the Altura Cresta glove review
The general consensus from the boys is that the Altura Cresta Gloves
are a worthy investment as they are comfy and soft inside, plus warm enough and waterproof to brave inclement weather.
From the purchasers perspective it's all about keeping those little hands warm, and so for around £15 you get a well designed and constructed product that has all the elements you would expect to find on a winter glove and more.
Where to buy the Altura Cresta
The Altura Cresta Children's Winter Glove is available at some local bike shops, and online at Amazon
, Tredz, and Cyclestore. You can also buy the Altura Cresta gloves from your local Evans Cycles – you can order online and collect in store if you prefer to try the glove out first.
This review of Altura Cresta Kids Winter Cycling gloves was first published October 2012 and updated in November 2016 to reflect current availability, and the ongoing use of the gloves.
Affiliate Disclosure: Many of the links in the list post use Affiliate Marketing, which provides Cycle Sprog with a small percentage commission for every glove bought. This helps us to fund the ongoing maintenance and hosting of the website – thanks so much for supporting us by buying your gloves through these links!