Cube Bikes have recently released their 2020 range and there are some interesting looking kids bikes in the lineup. We've taken a closer look and here are some of the models we thought would appeal to our readership.
Cubie 120 Walk (£149)
We might as well start at the beginning with Cube's balance bike that has been given the moniker the 'Walk'. It's certainly purposeful looking, with a lightweight aluminium frame and forks, chunky high volume 12″ tyres and adjustable seatpost to get the height set just right. There's also a second, longer seatpost that comes with the bike to ensure there's enough growing room available until your child is ready to move on to a pedal bike.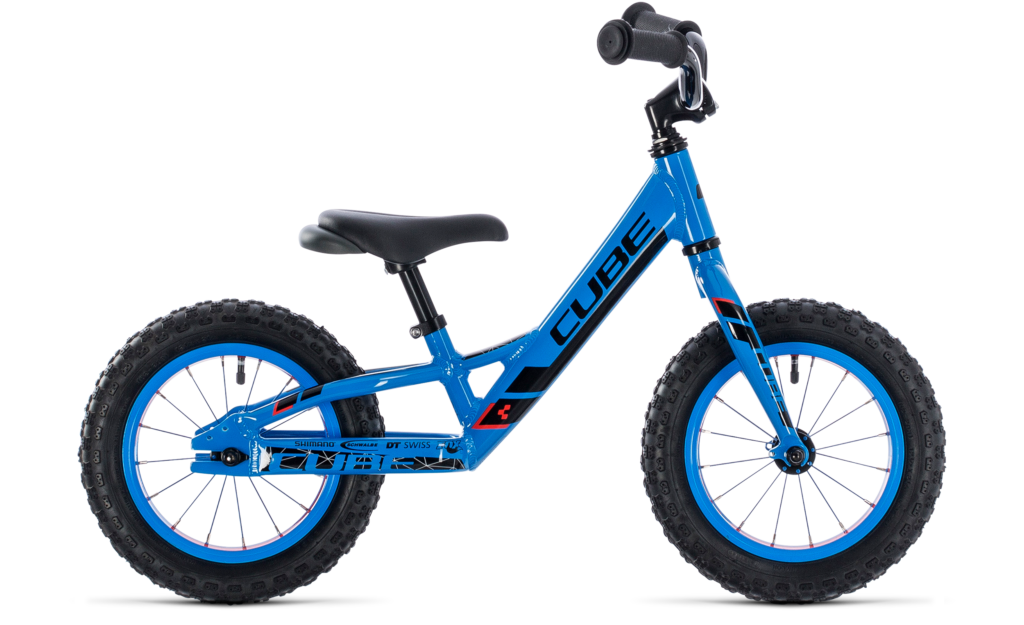 Available in two colours – Action Team Blue, which is a darker shade, and also in a light blue with components in a complimentary tan colour.
The Cubie 120 Walk has a retail price of £149.
Buy Now: Cubie 120 Walk from Tredz
Cubie 120 (£249)
Once your little one has worn out the soles of their shoes from razzing around and having fun on their balance bike it's time to take a look for the first pedal bike option.
To ensure the step up is not too great, Cube has created the Cubie 120 that comes with the same 12″ wheel size as the 120 Walk, but with a different style frame and single speed gearing. Slowing things down is taken care of by a coaster brake on the rear wheel and a rim brake on the front, with a suitable sized lever for tiny hands.
A coaster brake requires your child to back pedal to stop. Some people love these, as they feel their child isn't ready to use "proper" brakes. Others aren't so keen, as it means the child has to relearn braking as they get older. Coaster brakes are very popular on the continent where Cube hail from, which is why they are a good option for parents looking for this functionality on their child's first pedal bike.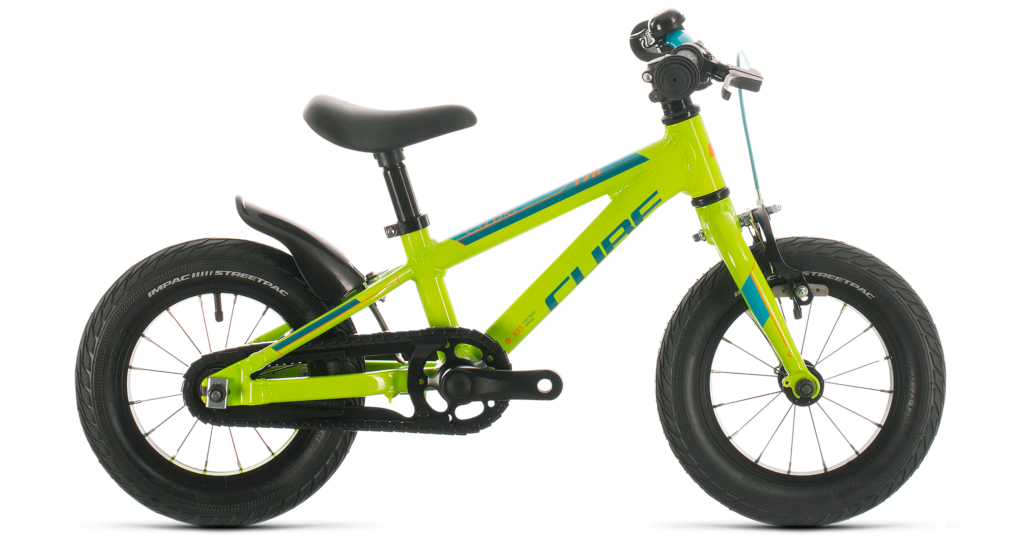 There's a funky Hebie Chainlooper to keep trousers from getting dirty or snagged and fingers nice and safe, plus a handle on the back of the saddle for parents to carry it home when little legs get too tired to go any further.
The Cubie 120 comes in green and blue or a blue 'n' mint version that has a ladybug saddle!
The specified weight for the Cubie 120 is given as 5.9kg and has a retail price of £249.
Cubie 180 SL (£329)
Manufacturers, including Cube, have realised that the jump from a 16″ wheel up to 20″ can sometimes be too great, so they've created an 18″ wheel bike to plug the gap.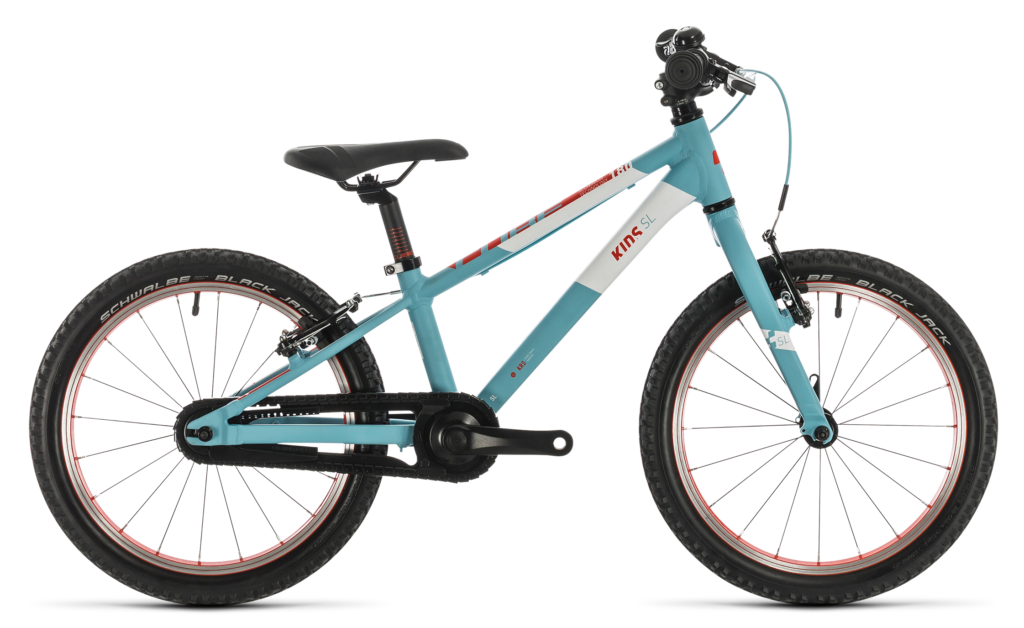 Based around an aluminium frame and forks, the 180 SL looks like it could be a budding mountain bikers dream. It's a stripped-back mountain bike in miniature, fitted with Schwalbe Black Jack tyres to provide plenty of grip. There's a single-speed setup that makes use of the Hebie Chainlooper again for protection and v-brakes with appropriately sized levers to operate them safely.
The Cubie 180 SL comes in two colours – light blue with red accents or red with black accents.
The Cube website states a weight of 7.2kg for the 180 SL.
BUY NOW: The Cube Cubie 180 SL from Tredz
Acid 240 Hybrid Youth (£1599)
With the adult e-bike market continuing to burgeon, Cube has developed a 24″ wheel mountain e-bike for younger riders from the ground up.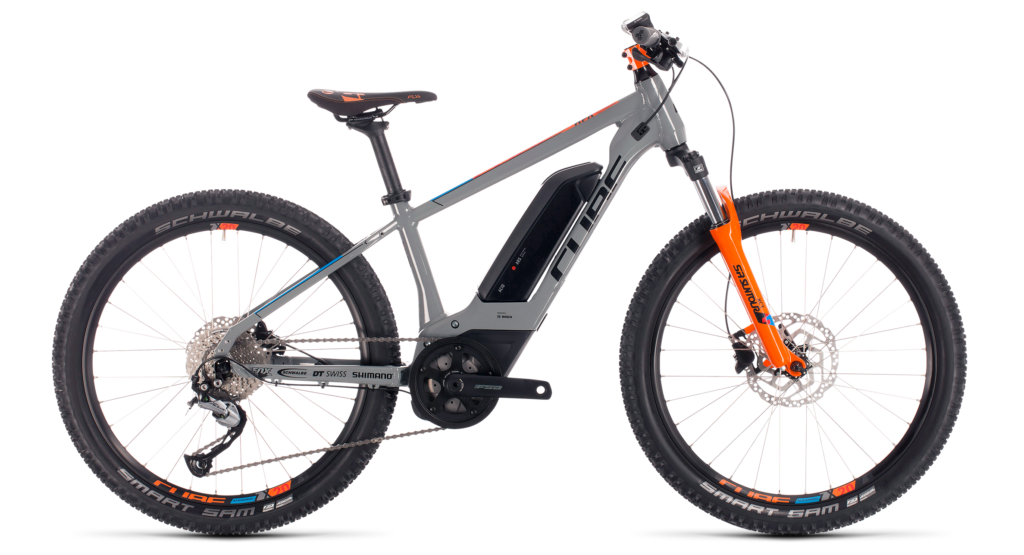 With a Suntour XCT Junior fork designed for lighter riders and a 9 speed Shimano drivetrain to work with the Bosch Active drive unit, the Acid 240 Hybrid Youth will be a capable tool for powering up hills and for managing longer rides too. The frame design will have involved some head scratching I'm sure, not only to incorporate the battery and motor in such a small frame, but also to get the weight balance correct. Cube has also gone for internal cable routing on the frame to keep things clean and tidy and obviously, mud-free cables help keep gear shifts slick.
In the UK the laws regarding kids and e-bikes currently state that children must be aged 14 or over to legally ride an e-bike on a public road or space. More information can be found in this Cycle Sprog article on the legality of kids e-bikes.
The Cube website states a weight of 19.2kg for the Acid 240 Hybrid Youth.
BUY NOW: Cube Acid 240 Hybrid Youth from Tredz
Cube also have the Acid 240 SL Hybrid Youth which has an upgraded specification including an SR Suntour XCR LO Air JR forks and the revered Shimano Deore 10 speed transmission. The Acid 240 SL Hybrid Youth has a retail price of £1899.
BUY NOW: Cube Acid 240 SL Hybrid Youth from Tredz
Stereo 120 Youth (£1699)
Cube are no strangers to the world of full-suspension, producing a broad selection of top quality mountain bikes for the adult market. Of course, they didn't stop at that because kids should get to enjoy the delights of a full-susser too, so a couple of years ago Cube brought out the Stereo 140 Youth – an awesome bike that we were lucky enough to test.
For 2020 Cube has once again created a 27.5″ wheel full suspension bike for kids based upon the cutting edge technologies they employ in the adult range. This is based around a custom sized triple-butted lightweight alloy frameset that comes in two sizes – 13.5″ and 16″.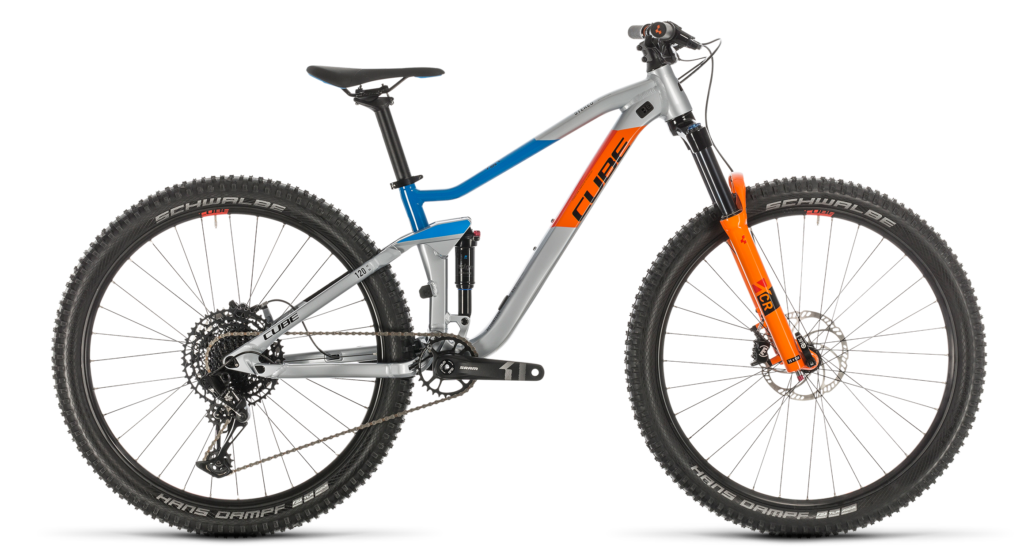 With 120mm of travel provided by the SR Suntour XCR34 air fork and SR Suntour Edge R shock, there's plenty of fun to be had.
Cube has specified SRAM for the transmission with an Eagle 12 speed setup throughout, featuring 30 tooth chainset and seriously wide range 11-50t cassette to give amazing gear options to cover all eventualities. Braking comes courtesy of Magura MT Thirty with 180mm rotors front and rear, so retardation of speed should not pose a problem.
The Cube Stereo 120 Youth certainly looks amazing and with such a quality specification we're expecting junior riders will be enthused to get out, ride and grin from ear to ear.
PREORDER NOW: Cube Stereo 120 Youth from Tredz
This is just a snapshot of what's available in kids bikes, with the full 2020 range available to view on the Cube website. There's also a handy 'Find Dealer' option on the site to help locate your nearest and book a demo or go along and view.
Do your Sprogs ride Cube Kids Bikes? We'd love to hear what you think of their new range. Do drop a comment in the box below. Thanks!
Other posts you may find interesting whilst you're here:
Review of Cube Kid 240 SL kids mountain bike (aka Reaction TM)
Review of the Cube Stereo 140 Youth full suspension mountain bike
Review of Cube Action Essentials Round Neck MTB Jersey
Review of Cube kids performance cycling gloves
Disclosure: Cycle Sprog are affiliates of Tredz, who stock Cube Bikes. This means if you make a purchase through the links on this page we may get a small commission. Cube Bikes have NOT paid us to write this article, but in the interests of full disclosure they sent us a couple of high end kids mountain bikes to review over the past few years, meaning we haven't had to buy our Sprogs bikes.