It's a common problem for parents using a bicycle trailer to find that the barriers designed to keep motorcyclists and motorists off the cycle paths also prevent them from cycling the route. We are therefore very grateful to Anthony, dad to James, for sharing with us details of a family cycle ride in Greater Manchester that is suitable if you are carrying your child in a bike trailer behind you.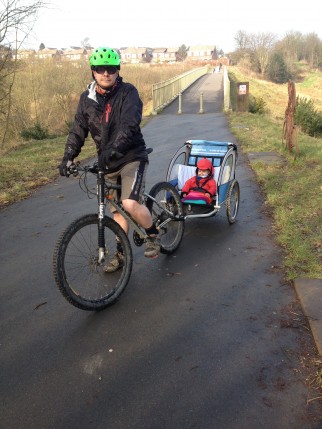 "A route we did recently which was suitable for a double bike trailer was the Greenmount to Bury section of Route 6. Accessed at Brandlesholme Road in Greenmount it runs for approx 4.5km (each way) along a disused railway.
There are two sections where you need to cross the main road, one has a pelican crossing, the other is a quietish road where we had no trouble crossing. It's a nice little route out & back.
There is an option to continue into and beyond Bury, but it was quite near the centre of Bury and seemed to be a bit heavy on traffic for our liking given the trailer.
The section we covered from Greenmount to Bury does have barriers, but we managed to get through them all with the double trailer attached without any problems. Only one of them seemed tight to get through so I nipped under it onto the grass instead.
The photo shows James and myself on the route at the Kirklees Valley viaduct which opened c.2012.
Thank you very much Anthony – we hope others enjoy this route too. If you have any family friendly cycle routes you'd like to share with others, do please let us know