Kathryn and her family (two kids, Alice 12 and Tom 9 plus husband Richard) were on a family cycling tour bikepacking around Indonesia when their plans abruptly changed. They found themselves caught up in an earthquake on the island of Lombok. The risk of aftershocks and the impact on the local infrastructure, meant they had to leave the island in a hurry. They managed to get a ferry to the nearby island of Gili Air. Kathryn explains what happened next.
Family cycling on Gili Air, Indonesia
Whilst we were on Lombok we'd planned to cycle from Banyan westward along the coast to Bansal Harbour to pick up the boat to the Gilis. Unfortunately the after affects of the earthquake meant we were in no fit state to cycle. This would have been potentially a slighter busier road than others we cycled on Lombok, but flat with views of the sea.
Instead, we decided to go straight to Gili Air. Taking the public ferry to and from Gili Air is easy enough if you're prepared to haul your bikes on and off. Be prepared to get your feet wet and a bit more besides. The boats leave direct from the beach and there's no jetty or gangplank! Bikes are 50% the cost of an adult ticket.
Gili Air is a tourist honeypot, which we found difficult at first. It felt very noisy and overcrowded after the tranquility of Lombok. There was loud music and people talking rather than monkeys chattering and cocks crowing. For the past few weeks we'd got used to being a novelty, now we were one of many European tourists (not that there were many other families on bikes!). Initially it felt like we were no longer in Indonesia.
However once we found our 'place' we enjoyed what the island had to offer. I'd really recommend the south east coast of Gili Air for a more authentic experience.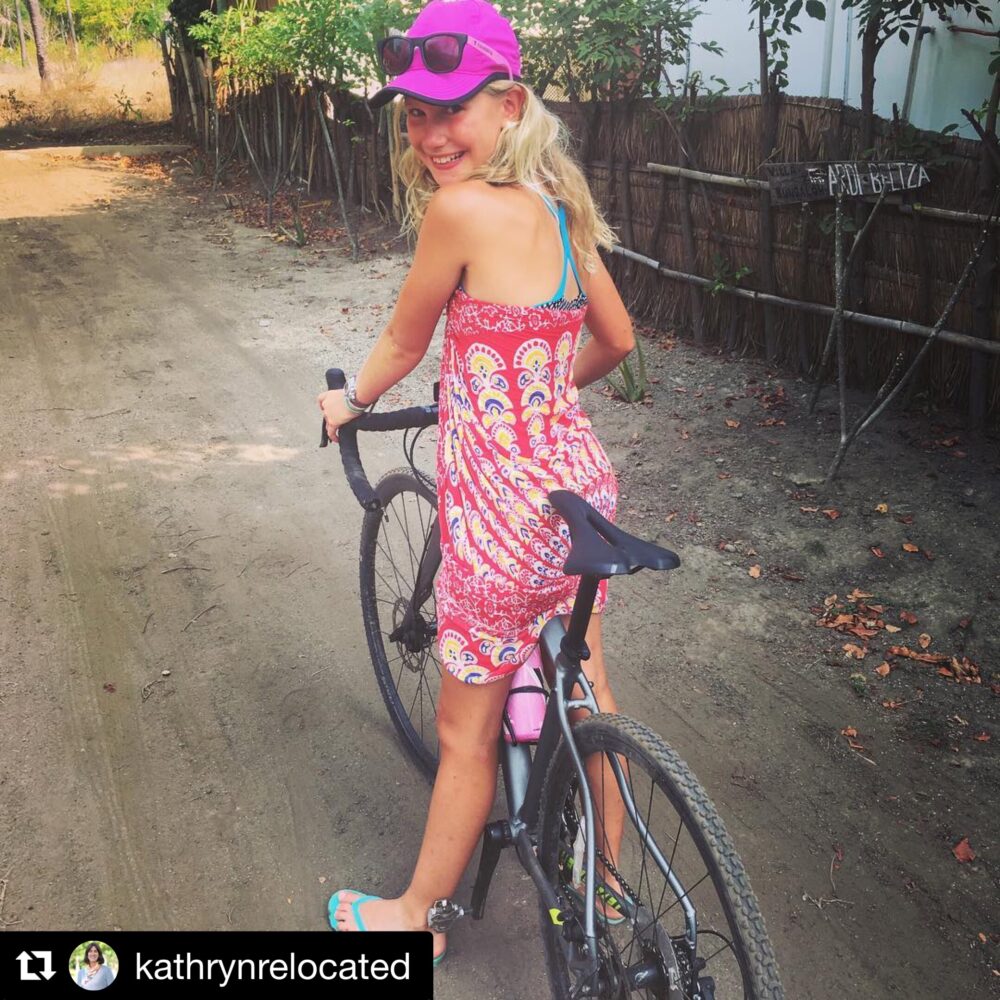 The island is cycle friendly as there are no motorized vehicles allowed!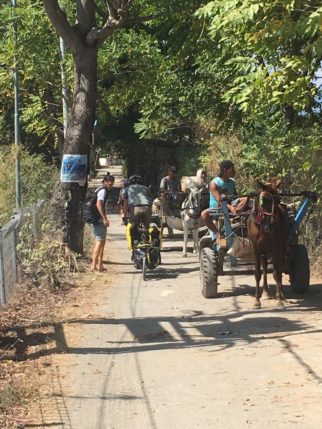 The island is small enough to walk around in 1h 30. It is slightly less if you cycle, but as a lot of the coast 'road' is sand, there'd be more pushing rather than cycling. Instead we used our bikes to explore the narrow streets in the centre of Gili Air, and to cross the island to different spots on the beach.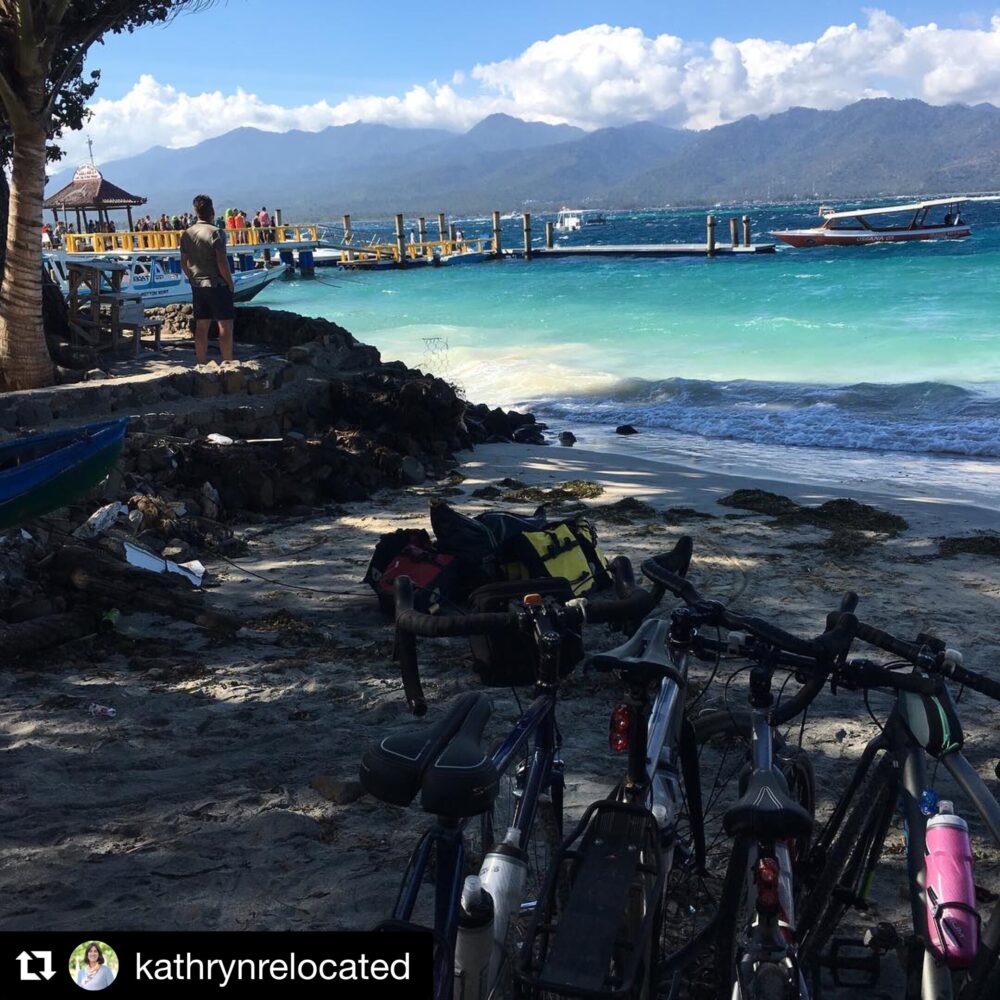 With stunning views over to Lombok and the other two islands, azure sea, freshly caught fish barbecued in front of you, washed down with a cold beer – what's not to like?
After a couple of days getting on top of our nerves and our strength back we were ready to move on from the Gilis. We planned to take the fast boat (2 hours) to the east coast of Bali for more cycling around Amed. However, despite buying out tickets it wasn't to be. The high winds and swell (a common occurrence in the Indian Ocean this summer) meant no fast boats were running. The Indonesian government has tighten up of the running of these boats which can only be a good thing. The only alternative was to take the boat back to Bansal, hitch a lift to Lembar and take the slow car ferry back to Pandangbai. Amed will have to wait for another time.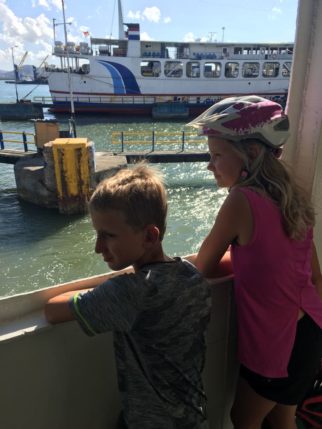 Other cycleable islands near Bali and Lombok
If you want to avoid the tourists and keep off the beaten track, take a look at Gili Gede and the surrounding islands. We had contemplated cycling from Lembar on the Lombok coast to Gili Gede (a much lesser known set of islands than those on the north west) but struggled to obtain any real information on potential places to stay and what the terrain would be like for cycling. We were also concerned it maybe a little too remote – and maybe it would have been for us this time. I think however with more research this area has great cycling potential, and would love to hear if anyone has ridden here with their kids.
You can catch up on the other parts of our Indonesian family cycling holiday here:
About Kathryn: As well as enjoying family cycling adventures, Kathryn runs a intercultural learning consultancy called Up+ Thrive and also provides advice and support to expat partners through Kathryn Relocated.
[amazon_link asins='1786575450,0241280672,1566955254′ template='ProductGrid' store='cycspr-21′ marketplace='UK' link_id='1f5a3a84-99b4-11e8-84cb-ab04ff3668d0′]