As winter approaches and light levels drop, it's essential that when your child is on their bike they are highly visible to traffic. As well as having lights on their bike, a High Viz Reflective kids vests is a cheap and easy way to get them seen what ever the time of day. It can be worn over their normal coat, and quickly taken off when you get to your destination. With a range of styles and colours, it's never been cooler to be bright!
Altura Kids Night Vision Safety Vest

(rrp £14.99)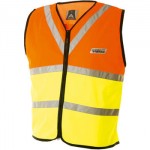 This vest is cleverly designed, with the two colours, orange and yellow, designed to catch the eye during the day, whilst the reflective strips illuminate when they are riding their bike in the dark. There is also a velcro mount for an LED light stick, if your child likes to use these whilst cycling.
The Altura Kids Night Vision Safety Vest comes in three sizes, as shown in the table below:
Altura Kids's Night Vision Safety Vest sizing
5-6 Yrs
7-9 Yrs
10-12 Yrs
Height (cm)
110-116
112-134
140-152
Chest (cm)
61
67
80
This Altura hi-viz child size vest is available to buy at some local bike shops, or on line at Wiggle or at Amazon
Respro Hi-Viz Kids Vest (rrp £12.99)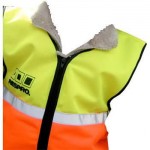 The Respro vest comes in a small size, which is ideal for younger children on pullalongs and bike seats. It has a strudy zip, which is reputed to be easy to use, and two loops on the back to attach a light.
The Day-Glo yellow and orange mesh material is bright by day, and is light and breathable enough to prevent overheating. The 3M Scotchlite material is reflective by night, and from the rear shows the classic Sam Browne pattern across the back.
The Respro Hi-Viz Kids Vest is stocked by a number of local bike shops, and is also available to purchase online at Amazon
It comes in in the following children's sizes:
Respro Hi-Viz Kids Vest sizing
Size
Small
Medium
Large
Age
4-5
6-7
8-9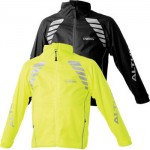 An alternative to a High Viz Reflective kids vests or waistcoat for cycling during the winter months is a child's sized winter cycling jacket.
A more expensive option than the vest, a winter cycling jacket is, as the name suggests, designed specifically for cycling, rather than having to use a regular coat. There are only a couple available in children's sizes, so see our article on kids winter cycling jackets for what's available this season.
This article was first published October 2012, and has been updated since