We were lucky enough to be sent the Bumper Adventure Duo Bike Trailer
for review during our family cycling holiday to Holland at Easter. The Bumper Adventure Duo bike trailer was ideal for what we needed,as it is a two seater children's cycle trailer, so there was plenty of room inside. However, we didn't quite use it for what the good people at Bumper probably had in mind – it was certainly used for some heavier work than it was designed for, as can be seen from the photos!
Inside the trailer we carried the clothes for our two daughters and the all important food. When our 4 year old daughter needed a rest from riding her bike she also squeezed in! It was then that the poor Bumper Adventure Duo trailer was really put through its paces as it also had a bike strapped to the back/top. Spare a thought for poor Dad to who had to pull all this along behind his bike!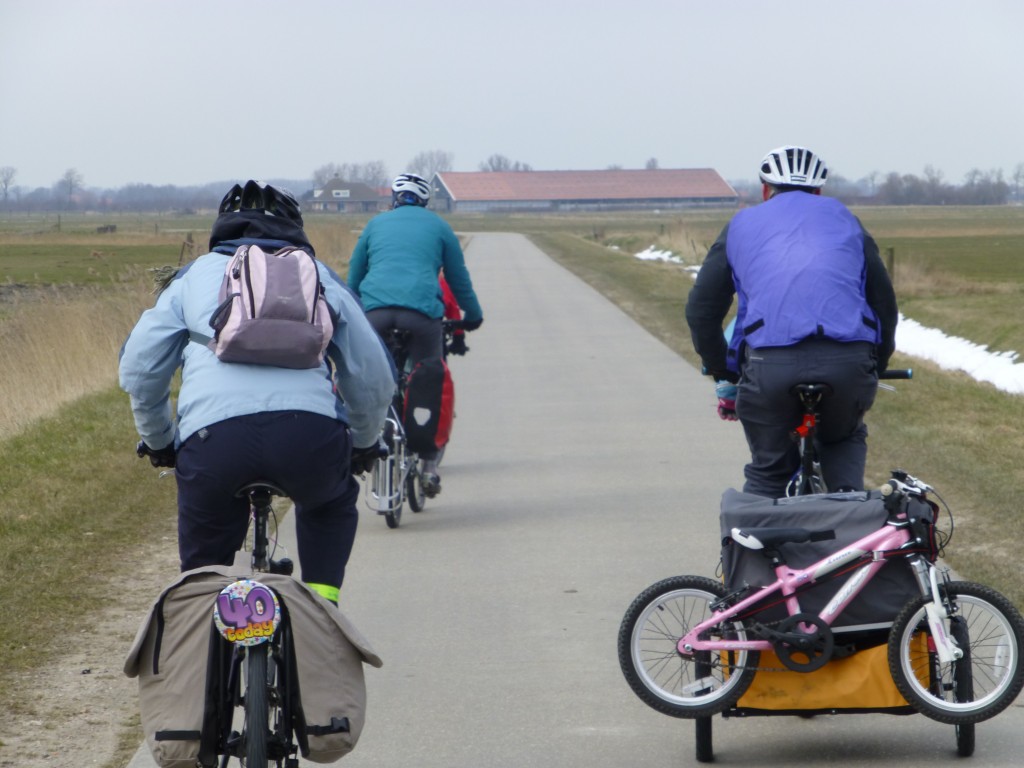 Assembling the Bumper Adventure Duo bike trailer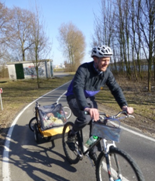 The Bumper Adventure Duo bike trailer was really easy to assemble. The wheels are held in with clips which are easy to remove for car transporting; the rest of the trailer then folds flat and fits into the boot of most saloon cars (BMW 3 series for example).
The Adventure Duo trailer attaches to the bike by undoing either the rear wheel nuts or "quick release". It's not difficult and is relatively quick although the nuts will require a tool for you to tighten back up properly otherwise the rear wheel could slip and catch the frame. I can confirm this rear wheel design is a huge improvement on the early child bike trailers where it attached to the rear frame with a large bracket and often worked lose.
We also used canoe straps to attach our daughter's bike to the back of the steel frame, which was quick and easy to do thanks to the roll bars – not part of the manufacturers guarantee though!
Points to consider when buying the Bumper Adventure Duo Bike Trailer
The weather protection provided by the Bumper Duo is good although the sides don't always close fully, so in heavy rain there could be some minor leakage. We were lucky and only had cold Easterly winds to contend with, so this wasn't something I could test fully. In cold windy conditions the trailer was great, our daughter never complained (in fact most of the time she fell asleep!) and when we went in to get her she was always lovely and warm.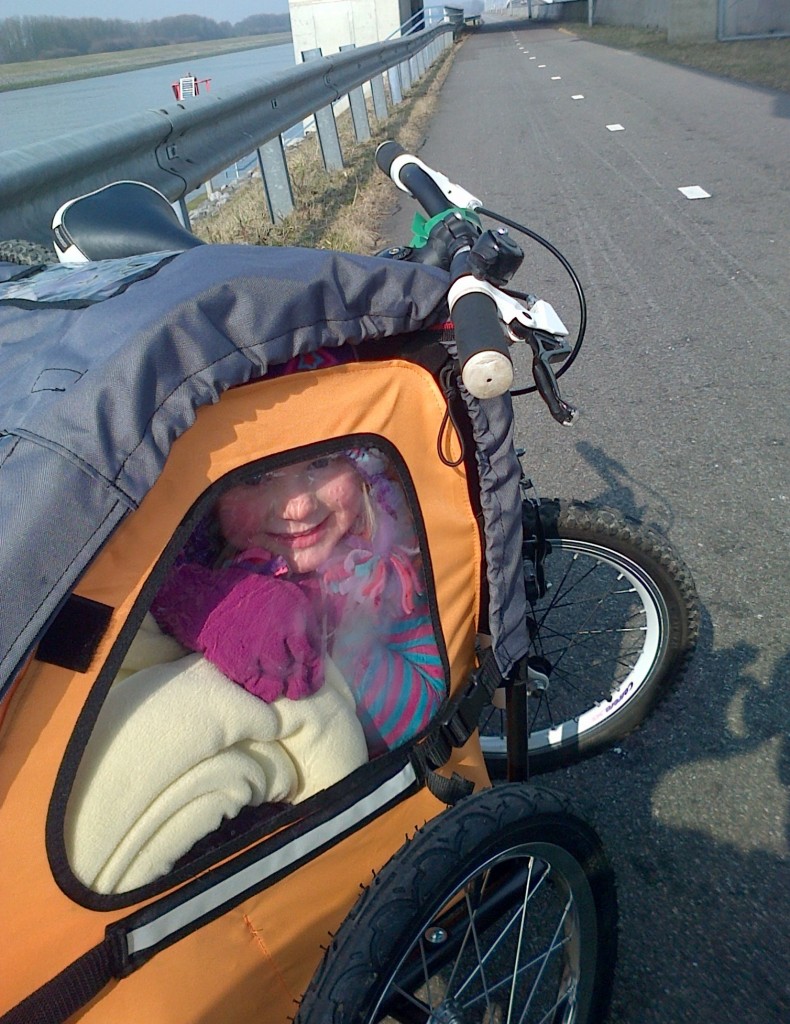 One small thing to note is that the straps to hold the children in are clips not quick release and therefore a little harder to fasten than some other models.
The wheels on the Bumper Duo are 16" which is fine on the flat smooth surfaces but not recommended for serious off road riding. It doesn't mean you can't off road but it will mean the children will have a more bumpy ride. That said, said it didn't seem to bother our kids as they still used to fall asleep!
Bumper Adventure Duo bike trailer review – the final verdict
We enjoyed using this trailer, and recommend it as a great way to get out with your children and exploring the countryside. It stood up well to the rigours of being loaded up for a week long family cycling holiday in Holland, and as one of the cheaper children's bike trailers on the market it's great value for money.
The recommended retail price is £133, but if you're lucky you can get it for under £100.
Where to buy the Bumper Adventure Duo bike trailer
To find your nearest local bike shop that stocks Bumper products, click here. Alternatively, you can buy the trailer online at Amazon
Other posts which may be useful:
Best single seat bike trailers for carrying one baby or child