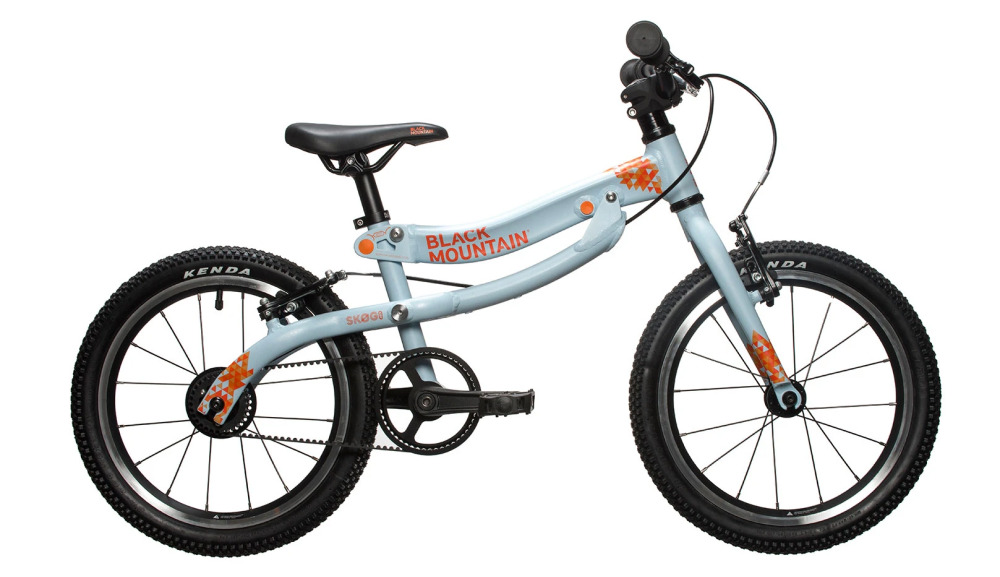 Reviewed and Recommended by Cycle Sprog
The Black Mountain SKØG has been reviewed by our testers and got the thumbs up!
Read our review
The Black Mountain SKØG is designed to grow with your child so you don't need to buy a 14″ and a 16″ wheel bike.
It's got 16″ wheels, and an innovative "growing frame" is designed for smaller riders, so you can skip the hassle and the expense of buying two bikes.
The SKØG is fitted with a maintenance and oil free belt drive rather than a traditional chain, to keep things easy and clean.
Age wise it's designed for about 4.5 years up (102cm to 121cm height range) which could be until 7 years old (depending on growth rate.)
The SKØG can also be used as a balance bike if your child hasn't quite mastered that stage of learning to ride yet, which will help speed up the "learning to ride" process.
Our reviewer hadn't started pedalling when she got the SKØG – you can read our review of how quickly she became a confident cyclist here. 
Not the bike you're looking for?
Search our database of kids bikes to find the perfect one for your Cycle Sprog