A new range of high quality kids bikes was launched at the Bike and Triathlon show at Manchester Central on 16th and 17th February 2013. Frog Bikes are designed specifically with small riders in mind – there are 9 bikes in the range, from the 4kg tadpole balance bike (£120) to the Frog 73 (£280) which weighs in at 10kg, and is aimed at 12 to 14 year old cyclists.
Cycle Sprog's very own roving reporter Liz was at the Bike and Triathlon Show with her family, to check out this exciting development in family cycling.
New high quality kids bikes prove popular with both children and their parents
Every child at the show must have gone away with the free Frog Bikes water bottle and fluorescent drawstring bag, complete with reflective strip, which was no doubt an incentive for people to visit the stand! This along with the competition for the children to describe "what their dream bike would do" had the stand packed out.
There were numerous members of Frog Bike staff on hand to talk about the company and their lightweight, high specification children's bikes. Many of the staff are parents themselves, with first hand experience of what is important for a good quality child's bike.
There was also a 'Kids' Zone' to test the bikes which proved very popular. Helmets were provided in case of any indoor incidents!
The Frog Bike Range
There are 9 bikes in the Frog Range (suitable for ages 2 to teenage) with each available in four bright colours. The staff were keen to help out with measuring our girls to ensure that they were riding the correct size bike.
This was done by measuring their inside leg length. For example, the Frog 52 will fit a child with a 52cm inside leg measurement – an easy way to determine which size bike your child needs.
Our girls (aged 4 and 7) were soon both whizzing around the circuit and loving every minute of it. There are several different colours of bike to choose from and the spotty one was particularly appealing to our girls as well as being unusual.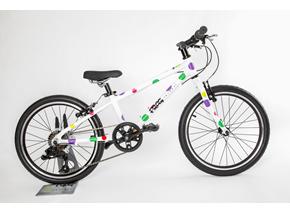 The bikes are aluminium so are relatively light and there are other child-friendly aspects such as Shimano easy twist gears and child sized breaks (Tektro slim-grip) with adjustable levers to make them easy to use. This is a great selling point as it is rather important to be able to stop easily and gives the parents peace of mind! There is also an option to have the MTB model complete with knobbly tyres and front suspension forks.
Given the level of interest from parents, Frog Bike may well quickly become a recognisable name in family cycling – they have great quality bikes at competitive prices and a very impressive set up. Their website is also very user friendly, attractive and helpful.
Where to buy Frog Bikes
Frog Bikes can be bought online from Tredz. However, in an ingenious move, Frog are also offering an in-store service at your local bike store.
If you order online, you can choose to have your bike delivered to your local bike store for free, and they can give you all the help you need with set up, fitting and accessories. They will also give you a free service after 6 weeks, and be able to help with your bike in the coming years. Not only does this help to support independent bike stores, but it also allows you to try out the bike in the showroom before taking it away.
Alternatively, they can deliver your new bike directly to your address within a couple of working days – assembly will require use of an allen key and spanner.
They also have a gift list service, where family and friends can contribute to the cost of the bike – a novel take on asking for money towards a new bike at Birthdays and Christmas!
Were you at the Bike and Tri Show? What did you think about of the Frog Bikes? Do let us know using the comments box below