There are an increasing number of traffic free family friendly cycle routes in Greater Manchester to allow you to get out cycling with your kids. To help you plan your next family bike ride, we've brought together some of the best routes – but of course if we've missed your favourite, do let us know at [email protected]
Family friendly cycle routes in Greater Manchester
Manchester:
Manchester Cycleway – an off-road cycle and pedestrian route from Chorlton in West Manchester through Fallowfield and Levenshulme, up through Gorton and East Manchester, to the Velodrome and Sportcity. The Manchester Cycleway, follows the disused Fallowfield railway line, (known as the Fallowfield Loop), the infilled Stockport Branch Canal and the Ashton Canal Tow Path. The path also gives access to several green open spaces including Highfield Country Park and Debdale Water Park making family rides in green surroundings possible without having to use the car or leave the city.
Medlock Valley Project – covering the entire river valley system in the East Manchester, running from Great Ancoats Street in the west to Clayton Bridge in the east, their sites are great places to discover by bike. The area is also part of the National Cycle Network, which provides accessible routes across the city.
Chorlton Water Park – great for cycle rides along the River Mersey,plus there is plenty of wild life to keep children interested too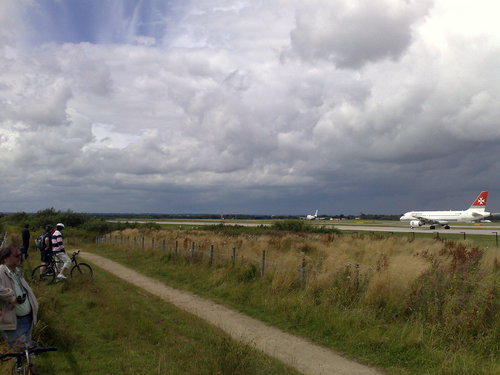 Manchester Airport Orbital Cycleway – 8 miles long, this is great cycle route to keep airplane obsessive kids happy! It's a mainly off-road route that passes the Aviation Viewing Park, (where you may be able to see Concorde and other historic aircraft, plus the busy airport at work). A further stretch of the cycleway passes through Styal Country Park (a National Trust Property with extensive grounds).
More information about cycling in Manchester City, together with details and maps of all routes can be found on the Manchester City Coucil Website
Cycling with kids in Oldham:
Oldham Council has a good website detailing cycling routes suitable for families. These include: Greenfield to Mossley, a traffic free and reasonably flat cycle route, following a section of the Pennine Bridleway and the route of the 'Micklehurst Loop', a former railway line
The 'Delph Donkey', a section of the former 'Delph Donkey' railway line, which has been restored as a bridleway providing a flat and pleasant traffic free route for cyclists of all ages.
The Diggle Jiggle Mountain Bike Route, an 11 mile mountain biking loop in two distinct halves. Running from Diggle to Greenfield rail station, the former 'Micklehurst Loop' railway line offers a pleasant section of off-road route suitable for families, before becoming steeper for much more experienced cyclists.
Trailer friendly cycling in Bury:
We were delighted when one of our readers, Anthony, got in touch to share his favourite trailer friendly cycle routes the Greenmount to Bury section of National Cycle Route 6.
Family cycling in Bolton:
Middlebrook Valley Trail – a 4.5 mile footpath and cycleway linking Bolton and Horwich, which end at the Reebok stadium
Family cycle ride in Tameside:
The Ashton Trail is an off-road cycle and pedestrian route from Ashton-under-Lyne that heads north to Park Bridge, along the National Cycle Route Number 66. The total distance is 2.2 miles, so that's almost 4.5 miles if you cycle there and back.
Family cycling beyond Greater Manchester?
If you're looking to escape the city, Manchester is of course surrounded by stunning countryside. Local Mum of two, Emma, recommends the Monsal Trail in Derbyshire. We've also gathered together some of the very best family cycle routes in Cheshire and Lancashire, if you're looking to go further afield. Happy cycling!
Cycle Books and Maps for Greater Manchester
There are a few maps and books that cover this area – they're not specifically for families, but may prove useful. Do let us know if you have any other favourites.
Want to know more about cycling with your kids?
If you'd like more advice on cycling with your kids, inspiration for family friendly cycle routes, or reviews of the best kids bikes and children's cycling accessories don't forget to sign up for the Cycle Sprog newsletter.
Please follow us on Facebook and Twitter. If you've found our guide to family friendly cycle routes in Greater Manchester useful then it would be great if you could share them with your friends. Thanks!
This post on family friendly cycle routes in Greater Manchester was first published in January 2013, and updated in June 2016 to reflect changes to routes