There are lots of locations for you to enjoy family bike rides in Merseyside and Wirral – most of them are traffic free and flat.
We've brought together a selection below, but please let us know at [email protected] if you have any other family bike rides in Merseyside and Wirral we should include.
Some great family bike rides in Merseyside and Wirral
Places to cycle with kids in Liverpool:
Wildflower Line and Halewood Park – This route is based on the Loop Line Path, an old railway line which has been converted to a footpath and cycleway. Until the 1960s, a major use was by frequent night-trains carrying fresh cabbages, cauliflowers etc. from the farms of the Lancashire Plain to London's huge Nine Elms vegetable market. The bike ride also passes the National Wildflower centre. Length 15km / 9¼ miles, mostly purpose built cyclepaths
Everton Park – a modern Green Flag park created in the early 1980s, National Cycle Route 81 passes through the park, which is also a great habitat for inner city wildlife
Full details of all Liverpool's cycle routes can be found on the Liverpool City Council website.
Family cycling in Southport and Sefton:
Southport has been a Cycling Town since 2008, and is a great place to get on your bike with the family. There are traffic free routes all along the coast, and you can download cycle maps from the Sefton Council website to plan your ride.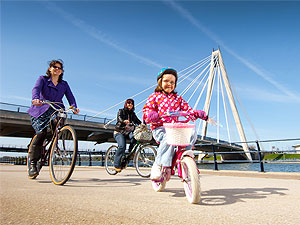 Cycling with children in Knowsley:
Halewood Park – traffic free cycleway in this Green Flag Award winning park
Stadt Moers Park – traffic free bike riding along part of the Mineral Greenway (National Route 56)
Many of Knowsley's other parks are also suitable for cycling, including Carr Lane (Prescott), Mill Dam, Valley Road, Arbour Lane and Moss Lane (Kirkby) and King George Playing Fields (Huyton).
Cycling with the family on the Wirral:
The Wirral is great for family cycling as it is so flat and has great off road paths. The Wirral Way follows the former railway track for 12 miles (19k), this route is ideal for family cycling although you do need to remember to have enough energy for the return journey. There are routes available for starting your ride at Thurstaston, New Brighton and Wallasey, and Eastham Country Park. You can also start the Wirral Way at Hooton Station.
St. Helens family cycling route:
Sankey Valley Trail – a traffic free cycle route, 9 miles one way from Warrington to St Helens. The valley follows the course of Sankey Brook and the disused Sankey Canal. You can take advantage of the children's play area and maze at Sankey Park.
The Trans-Pennine Trail:
The Trans-Pennine Trail is a coast to coast recreation and transport link. Between Southport and the Peak District there are many section where you can enjoy traffic free cycling. Ride along old rail lines, follow along the Mersey Estuary, explore the upper Mersey Valley or the Tame Valley, or ride into the heart of the Peak District. These are ideal for families with young children, inexperienced cyclist or anyone who wants ride without the worry of traffic. There are excellent guides to be found on the Trans-Pennine trail website.
Want to know more about cycling with your kids?
If you'd like more advice on cycling with your kids, inspiration for family friendly cycle routes, or reviews of the best kids bikes and children's cycling accessories don't forget to sign up for the Cycle Sprog newsletter.
Please follow us on Facebook and Twitter. If you've found this guide to family bike rides in Merseyside and Wirral useful then it would be great if you could share it with your friends. Thanks!
This guide to family bike rides in Merseyside and Wirral was first published in February 2013, and updated in June 2016 to reflect changes to routes