Trailgator child bike tow bars have been produced as good quality towbars and accessories for children's bikes which are available in a range of colours.
Trailgator child bike tow bar (RRP £79.99)
The Trail-Gator tow bars come in red, blue or pink and are available at Halfords and Rutland Cycling.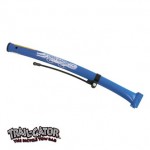 Trail-Gator Additional Seatpost Kit (RRP £23.99)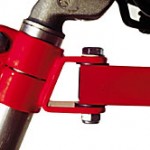 If you intend using the towbar with more than one adult bike then it is possible to purchase additional seatpost kits.
The kits are available from Rutland Cycling.
Trail-Gator Receiver Kit (RRP £23.99)
Alternatively, you might want to use the tow bar with an additional child's bike and this is where the Trail-Gator receiver kit comes in. The receiver kit is stocked by Rutland Cycling.