This week has passed in a blur of great sporting achievements for the British Isles – Andy Murray taking victory in the Men's singles at Wimbledon after a staggering 77 years, the British and Irish Lions claiming the Test Series against Australia, and Chris Froome taking and holding onto the Yellow Jersey at the Tour de France. All in all a fantastic week for sport.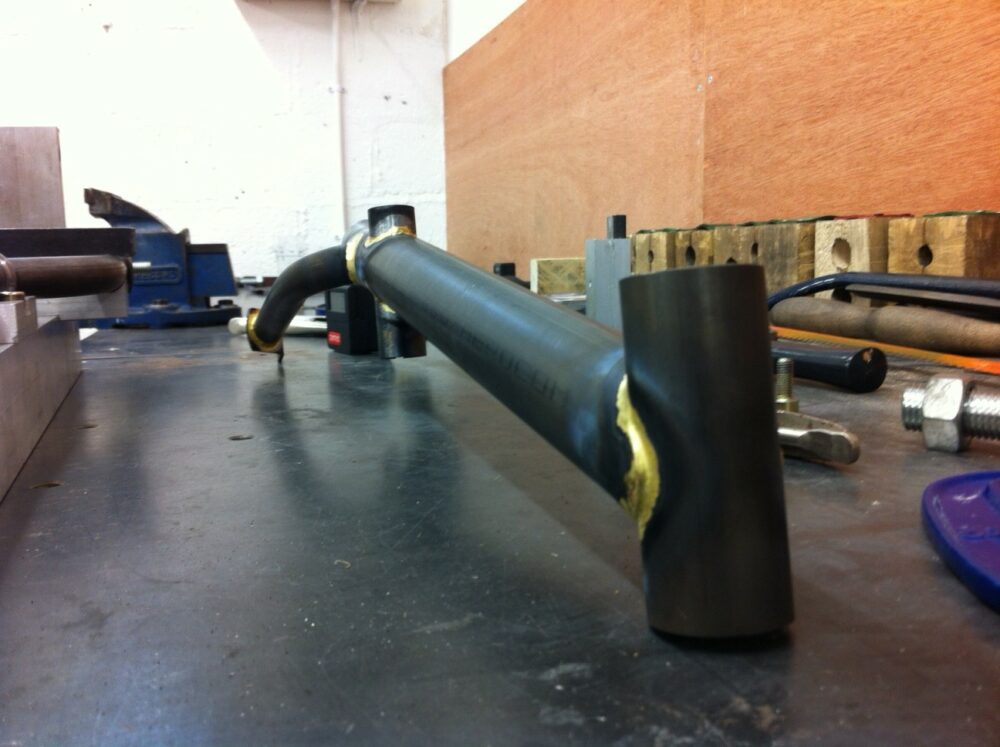 Against these giants of the sporting world, my achievement almost pales into insignificance, however for me it was most definitely a personal triumph as I have been building a balance bike!
I spent two days last week with the team at The Bicycle Academy on their new frame building course.
The Bicycle Academy Team
With the help of the friendly and approachable team of Andrew, Chris and Sam, who coincidently have the biggest biscuit tin you'll ever lay eyes on (full of course – ed.), I managed to go from novice who has never brazed before, to creating a safe and fully functioning balance bike.
There is an additional member of the workshop team, Brian Curtis, who's name is synonymous with the art of bicycle frame building and who's experience and wisdom gives The Bicycle Academy a strong ethos for quality, which is ingrained in everything they do.
A master frame builder at work
The balance bike prototype was built by Brian, and casting a beady eye around I noticed it sitting on the bench in the workshop. I must have picked it up and looked at it a dozen times, and each time I was amazed at the quality of the workmanship and the beauty that comes from the creation of a hand built piece of work. Then it was my turn……
Through a carefully honed programme of theoretical and practical tuition, I was able to explore the delights and frustrations of sawing, filing and shaping individual tubes to lovingly create each piece of the bicycle jigsaw. Then with the aid of a specially created jig the individual elements were brought together to form the finished picture. Oh, if only it was that simple!
Learning to braze
Once the tubes were finished it was time to bring out the brazing equipment, don the protective gear and braze it together. The process of brazing can be thought of as a glue for joining metal together, or as an art form. When brazing is done with passion and pride, you can almost sense the toils of the framebuilder right there in the glistening brass and steel.
It seems that the creativity of the frame builder is fuelled by a broad selection of biscuits, so after suitably gorging myself I set to work. I found the process of brazing a totally absorbing, almost meditative experience and after I'd finished I had this compelling feeling that I wanted to do it again. But for me, this particular episode was over.
Before me on the bench stood a frame. A balance bike frame that I'd build with my own hands over a period of two long, tiring but incredibly satisfying days. I'd listened intently as to how I was going to build it, and then I'd put that information into practice. The deed was done. Feeling contented and proud it was time to head back up the motorway for the long but euphoric drive home.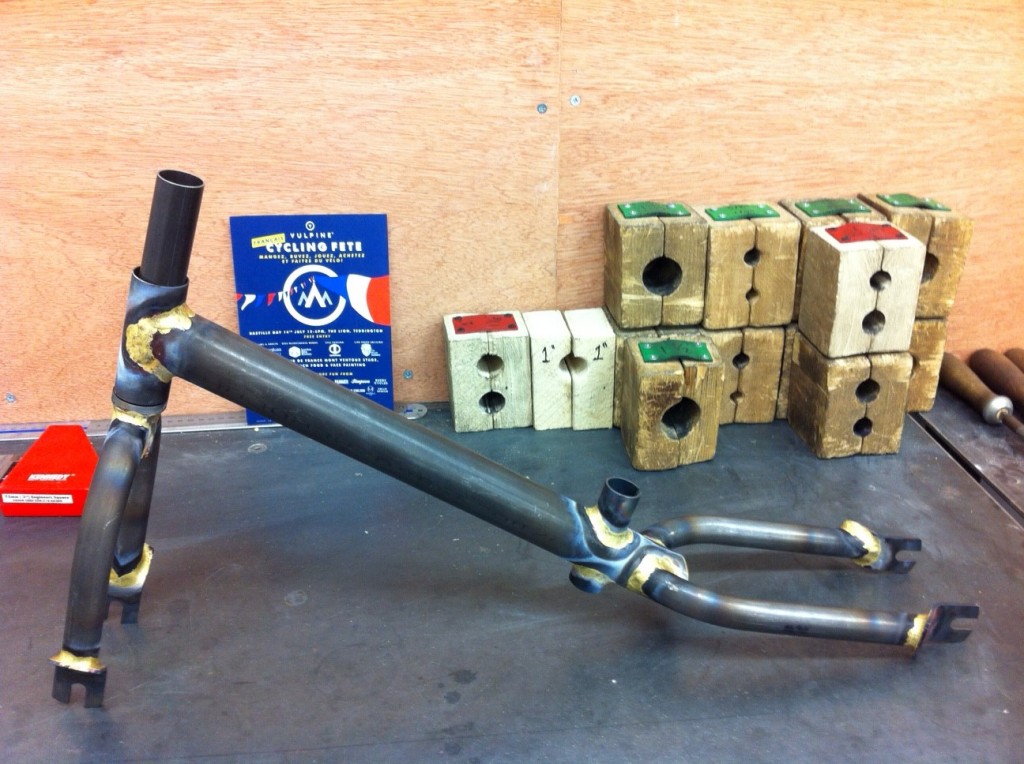 I had to leave my masterpiece behind, as it needed to be painted. Once the guys at The Bicycle Academy have done that, the balance bike frame will be sent with the components (handlebars, wheels etc), for me to fit. I can't wait!!!
Building a balance bike – useful information
So where can I learn to build a balance bike?
At The Bicycle Academy in the town of Frome, nestled deep in the heart of the spectacular Somerset countryside. There are some great rides out with breathtaking scenery, and if you like fish and chips try the Scallop Shell – unbelievably good!
Who is a bike building course suitable for?
Well, I went without any previous experience, and the team at The Bicycle Academy trained and guided me through it. They're armed with bags of patience so go with a relaxed attitude, be prepared to listen and you'll learn a heap while building your bike.
For more information and details of forthcoming courses, visit The Bicycle Academy Website
You may find these other articles useful: