A new balance bike has reached our shores today, and here at Cycle Sprog we think it's going to go down a storm with both kids and parents. The Phantom Ride is a light up balance bike which quite literally glows in the dark!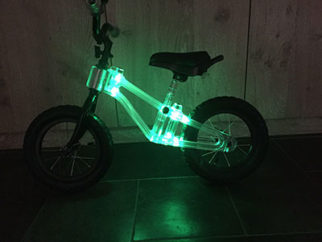 By using LED lights inside the polycarbonate frame, the entire balance bike becomes illuminated once light levels start to fade.  Safety and fun in one package – no more struggling to fit lights, or getting caught in the dark if the trip home takes longer than expected.
Affiliate disclosure: Cycle Sprog may get a small commission if you make a purchase from the links in this post. For more information please see our affiliate policy
From a child's request to an innovative balance bike
The Phantom Ride Balance Bike was created in Santa Ana, California when Jack, the owners son asked why he needed to fit lights to his balance bike. He wanted the entire bike (tyres included!) to light up.  That was back in 2011, and since then his parents have been working hard to realise his request for a light up balance bike.
They realised that all other illuminated bike frames fitted lights to the outside of the frame, rather than illuminating from the inside out.   Thus the idea for the Phantom was born (although they've not worked out how to make the tyres light up yet!)
Whilst Jack is now too big for a balance bike, he's continued to be involved in the project, taking prototypes into school for science projects.
The Phantom Glow-In-The-Dark Ba
lance Bike
The finished product is the Phantom Balance Bike – the world's first internally illuminated polycarbonate frame.  It comes fitted with 12″ pneumatic easy roll rubber tyres, steel spoke rims, toddler size clear handgrips, a saddle with useful handle for steading your child (or carrying the bike when they get bored!)  The seat height is adjustable as your child grows.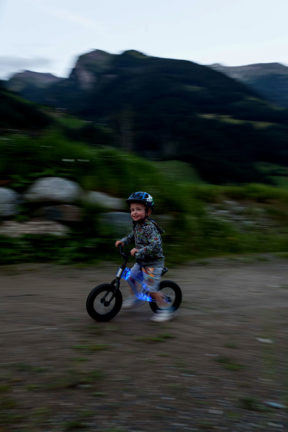 The illumination is provided via front and rear LED light inserts, so you can decide when the lights are in use. This is handy, as each insert requires  3 AAA batteries so you don't want it in use all day!  There is a flashing and non-flashing option, which you specify at the time of purchase.
Here is a great video showing the Phantom Ride Light Up Balance Bike in action!
I certainly think we're going to have to add this to our post on the best balance bikes, under the heading "Best (only) light up balance bike"!
Where to buy the Phantom Ride Balance Bike
The Phantom Ride Balance Bike has an RRP of £140 and comes in two colour choices – blue or red – and each colour is available in either plain or glitter options.
Don't forget that the LED inserts take 3 AAA batteries each (which are not included), so you'll need 6 AAA batteries to have a fully lit up balance bike.
You may find these other articles useful:
Affiliate Disclosure:  Some of the links within this post use affiliate marketing, which means we get a small commission if you make a purchase. This helps us funds the ongoing hosting and maintenance of the website, and doesn't affect either the price you pay, or whether we recommend a product. Thanks for supporting Cycle Sprog by using these links when you buy your balance bike.
If you've found this article useful, please share it with your friends on social media, using the icons below. Y0u can follow Cycle Sprog on Facebook too!
If you've enjoyed reading this article, please do sign up for our newsletter - we'll keep up updated when we have new articles which may be of interest. Thanks!