Today is an exciting day for us at Cycle Sprog – we're publishing our first ever series of articles dedicated to a single topic! It's been a lot of work getting all the posts ready, but we hope you find them useful.
Our first series of posts is on selling on your kids bike when they've grown out of it. We decided to cover this topic first for several reasons.
Firstly, we've had a number of friends come to us recently to ask advice on this very topic. It seems that the nice weather has brought with it the problem of children growing out of bikes over the winter months. Before buying a new one, the cash is needed from the sales of the old bike, and people want to make sure they can command as good a price as possible.
Secondly, here on Cycle Sprog we're keen advocates of quality kids bikes, and caution against buying very cheap, heavy bikes that rust quickly and are difficult to cycle. Whilst a quality kids bike is more expensive, one of the benefits we often quote is that the bike will have a good resale value at the end. If we're telling you this, we thought it would be a good time to provide some guidance on how to actually get that cash back.
Thirdly, we had a spring clean and found a few old bikes that needed tidying up a bit. Chris has been spending hours locked away working on these, and some friends, kids bikes. It seemed only right to share some of his expertise with you.
Our series starts with the article 4 questions to ask yourself before selling your old kids bike. This will help identify if your kids old bike is worth selling on, and the main things you need to think about to get the best price for the bike.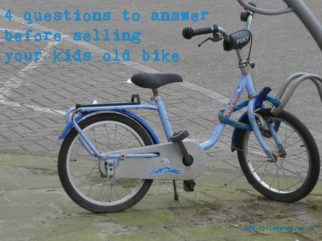 To get buyers interested you need to present your bike in the best possible way, so our post on "How to prepare your old kid's bike for sale" will take you through the steps needed to tidy the bike up, fix and minor problems and understand if there are any issues that need fixing or disclosing prior to sale.
Choosing the best place to sell your used kid's bike is very important. You don't want to go to hours of trouble listing on Ebay if your next door neighbour is looking for the exact same bike! Our Guide to the best place to sell your used kid's bike explains the different options available.
If you decide that Ebay, or another online site such as Preloved, will give you the best return on your investment, then check out our post "How to sell your used kids bike on Ebay".
As this is our first series of articles we've published in one go, we'd really appreciate your thoughts on whether this is useful, and whether you'd like to see more topic related series in the future (ideas and contributions welcome!). Do let us know using the comments section below, or on the Facebook / Twitter post that brought you here.
Thanks – and good luck with selling on your used kids bike.