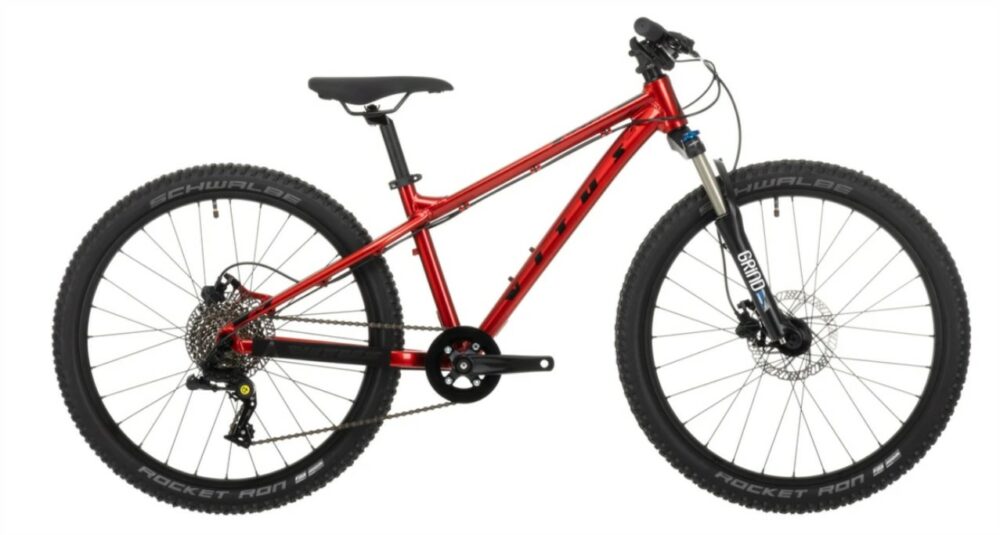 Recommended by Cycle Sprog
We've not tested this bike, but have reviewed other Vitus bikes and are happy to recommend them.
The Vitus range is really pushing the boundaries for what you get for your money when buying a 24″ wheel kids mountain bike, both in terms of performance and looks.
The Vitus Nucleus 24 features disc brakes and air sprung forks, while most other mountain bikes at this price will have either rim brakes or coil forks in order to keep the price down. 
The Nucleus 24 has a single chainring at the front, meaning your Sprog doesn't have to worry about complicated left-hand gear changes, with a great spread of gears for even the steepest hills.  This makes for a great bike, without the price tag associated with so many of the other quality 24″ wheel MTB's. 
Vitus say this bike is suitable for XC, trail and bikepark riding.
We've recently reviewed the slightly larger Vitus Nucleus 26 and were really impressed with how this bike performed over a summer of riding at various trail centres and bike parks in Wales. 
Not the bike you're looking for?
Search our database of kids bikes to find the perfect one for your Cycle Sprog