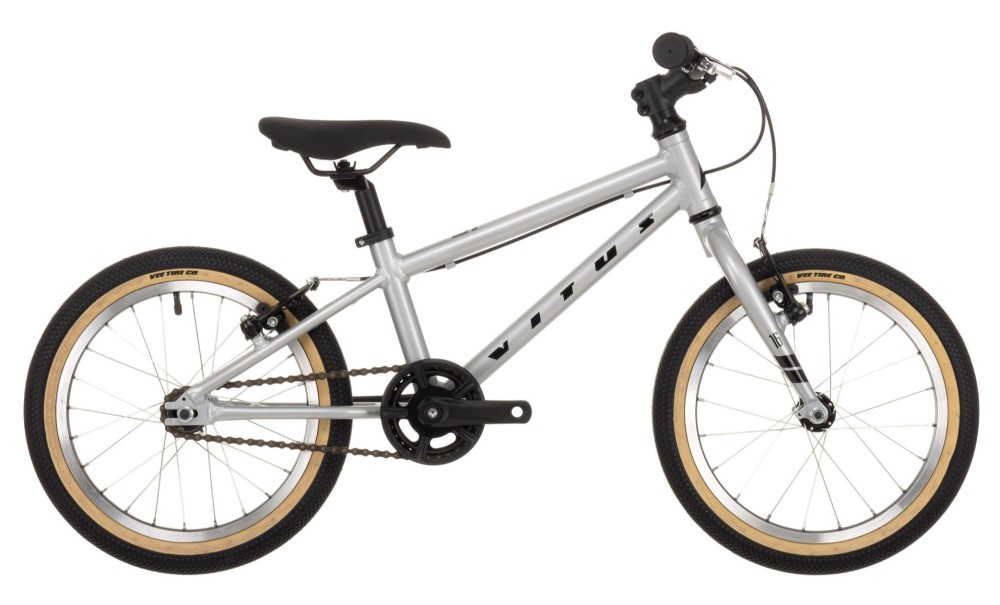 Recommended by Cycle Sprog
We've not tested this bike, but have reviewed other Vitus bikes and are happy to recommend them.
Vitus Bikes were revamped for 2021, and continue to have been designed with an attention to detail that usually comes with a higher price tag.
With the Vitus 16 you're getting a lightweight 6061 alloy frame and forks plus the all important child specific components such as brake levers, saddle and handlebars. 
The newer model Vitus 16 is slightly lighter than previous models as they've replaced the old steel forks with alloy.  This means it now weight in at 6.8kg which is very reasonable weight for a 16″ wheel bike. 
It's certainly a lot lighter than those cheap steel framed kids bikes available elsewhere, which means not only will your child will have more fun on it, but also that you'll appreciate it when you're having to carry it around. 
The Vitus 16 is a great choice for budding cyclists who want to ride further and faster as they get confidence and strength on their bike. 
We've not reviewed this specific bike, but you can read our thoughts of the bigger Vitus 20+ here. 
One point to note – whilst the photo shows the bike without pedals it does come with them!
Not the bike you're looking for?
Search our database of kids bikes to find the perfect one for your Cycle Sprog